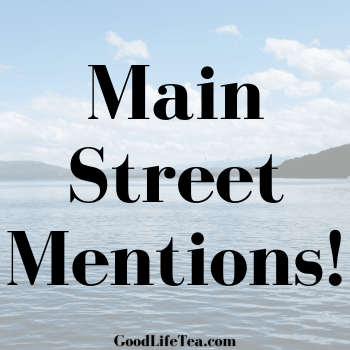 Happy Tuesday, tea friends! I love beginning each of my blogs greeting you in this fashion as it is a reminder to me that we are friends, even if it only through a screen. With the state of our world today and COVID, that has become a bit more normal but through the process of lifting each other up (even if it is virtually), we are able to remain positive and continue on! In the spirit of lifting others up, we thought a good blog topic for this morning would be to feature a few of our friends here on Main Street in Canandaigua and why you should check out their places as well!
169 S Main St, Canandaigua, NY 14424
Sweet Expressions is our local little chocolate lover's paradise. Do you have someone in your life with a sweet tooth? If so, you absolutely need to give them a field trip to this little slice of heaven. This shop features delicious chocolates in every variety, many of which are made fresh daily - like their amazingly popular homemade fudge! They also promote your favorite nostalgic confections, gift baskets, products from the Finger Lakes and New York State, gourmet foods and more. When we at Good Life Tea had to shut down temporarily last fall, our friends at Sweet Expressions generously offered to sell our tea products in their store front. We were overwhelmed with their compassion and kindness. If you would like to experience this for yourself, take a moment to stop in and meet these wonderful people, as well as to treat yourself to one of their delicious products!
120 S Main St, Canandaigua, NY 14424
We all have a little bit of childlike wonderment in us and this toy shop is just the place to awaken it. Unique Toy Shop opened in 1983 and has continuously expanded since. Inside you will find a wide variety of toys ranging from puzzles and board games to Raggedy Anne dolls and Radio Flyer products. The store's main focus is timeless and reminiscent toys that can transport even the oldest soul back to their youth. Don't be fooled or discouraged though, the shop has its share of new toys as well! If you have a child of any age with a birthday or special occasion coming up, stop into this shop. You are sure to find just the gift to put a huge smile across their face. 
143 S Main St, Canandaigua, NY 14424
One of the newer store fronts that is present on our beautiful Main Street is Aubergine. This exquisite store features tableware and gifts that are all hand selected and produced in a socially responsible manner. They pride themselves on providing wares that are not made by any company or country that supports child labor, currency manipulation, or other human rights abuses. You will find all the fixings to make for a beautiful table display as well as other knick knacks such as candles, cards, hand towels, fragrances, coasters, and more. We highly recommend checking them out for your next family get together or dinner party! 
170 S Main St, Canandaigua, NY 14424
One of our newest additions to Main Street is the lovely Kix on Main restaurant! KiX on MAIN specializes in American-style, creative, imaginative cuisine. It is a full-service restaurant and bar, complete with two-story dining and a covered roof deck, located right on South Main Street. Owned and operated by two local legends, Kimberly Vakiener (Ki) and Alexander Bacon (X), you will quickly become a regular here as their menu is to die for. As I have eaten here recently, I personally highly recommend both the Ahi Tuna and the Chicken French. Stop into Good Life Tea after you fill your belly and let us know how delicious your meal was! 
56 S Main St, Canandaigua, NY 14424
Another one of our local lights is the Renaissance Goodie II gift shop! This shop is located a bit north of our store front and on the other side of the street. It features local artists as well as home decor, fashionable sweaters and socks, and jewelry! We love their eye for the unique and classic gifts. If you are looking for something for perhaps your mother, grandmother, aunt, or rather, any fun and charming women in your life, the employees in this shop are friendly and would be happy to help you pick out the perfect items! We also highly recommend their candy selection from behind the counter! 
142 S Main St, Canandaigua, NY 14424
You're probably familiar with the saying "Diamonds are a girl's best friend" and I'm sure the people at Crown Jewelry on Main Street would agree. Founded in 1947, this family run jewelry store is nothing short of exceptional. They stock a variety of brands regularly, as well as specialize in selling estate jewelry. One of their other wonderful attributes is their propensity to help you personally when selecting your jewelry. When you walk in, an associate will work with you through the entire process of navigating your budget, your tendencies toward different stones or metals, and hand selecting the perfect piece for you. If you perhaps are looking for something special for yourself, they even have a fun little novelty that includes putting your name on a piece for your giver to come in later and look at to surprise you. We highly recommend this store for all of your jewelry needs that include but are not limited to learning, buying, selling, and cleaning!
33 N Main St, Canandaigua, NY 14424
If you are in search of true local flavor, this is where you need to be. Patty's Place is renowned for being the oldest continuously operating restaurant in the city and has been serving the people of Canandaigua for a whopping 128 years. While it is best known for it's breakfast, they are currently serving lunch as well. Patty's Place is a small, diner like restaurant located right next to the railroad tracks on the Northern end of metropolitan Main Street. On the menu you will find breakfast delicacies such as homemade corn beef and hash, cinnamon bun pancakes, or my personal favorite, the breakfast burrito (beware, it's big so I always share!). You also will notice that they have daily specials each day. If you or someone you know is active duty military, a veteran, or a law enforcement officer, Patty's Place also prides themselves on offering discounts for the above. This place comes highly recommended, but we suggest you get there early because they book up fast! 
153 S Main St, Canandaigua, NY 14424
When looking for new shoes, boots, or sandals there is no need to walk yourself out of Canandaigua. We have the 125 year old storefront of Davidson Shoes right here on Main Street. Specializing in the best footwear, their philosophy is "We know shoes and your feet deserve the best possible fit and comfort available!". They feature brands such as Hoka ONE ONE, Dansko, Wolky, Naot, Red Wing, Vasque, Danner, and many more. When you walk in, you will be greeted by a friendly associate who will "walk" you through (pun intended :) ) getting just the shoes that you need for your current lifestyle. Another notable attribute about this store is their affiliation with the General Services Administration. If you know someone in military service or law enforcement, Davidson Shoes is ready to serve their footwear needs as well. Walk your way through their front doors today and walk back out in a more comfortable manner! 
183 S Main St, Canandaigua, NY 14424
How could we write this blog article without a shoutout to our super fun and rowdy next door neighbors at FULLSEND? If you or someone you know loves everything outdoors, you need to check out this place. The guys in this store know and love everything to do with outdoor sports, exploration, safety, and most importantly, fun. When you walk in, you will be greeted by their jovial and outgoing personalities, but also by their full stock of products to outfit you for all your outdoor adventures. Whether you are a camper, like to get out in the water in the summer, or are more of a ski bum, these guys will take you from start to finish on which are the best products suited for you and help you to prepare for your next outdoor endeavor. Stop in and see them today and let them know we at Good Life Tea put you on a "full send" their way!
76 S Main St, Canandaigua, NY 14424
Sometimes you just need some good ol' fashioned comfort food, and for many people that entails a Philly cheesesteak sandwich. We have that on Main Street in Canandaigua for you too. On lists of our most popular restaurants here, Mac's Philly Steaks always appears somewhere near the top. After living on the South New Jersey shore and falling in love with the smell of authentic Philadelphia cheesesteaks, owner Ryan MacNamara, dreamed of bringing this goodness to Upstate New York. We cannot thank him enough as he certainly did just that. The menu features anything from the traditional Philly steak and Chicken Philly style sandwiches to what us Rochesterian's are more accustomed to, garbage plates. If you need something to scratch your itch for some feel good food, stop by Mac's today. 
While this is only a limited list of all of the neighbors we love here on Main Street, we highly encourage you to come down and check out all of the lovely businesses we are surrounded by. You will find a multitude of lovely gift stores, restaurants, and specialty stores that will not disappoint. As a reminder for our own business, we want you to know that we are open fully and observing COVID consciousness of maintaining social distance and wearing masks. While you are stopping by and seeing all of our friends here, we do hope you'll come see us too (181 South Main Street in Canandaigua)! Stay safe! - Kaytea :)