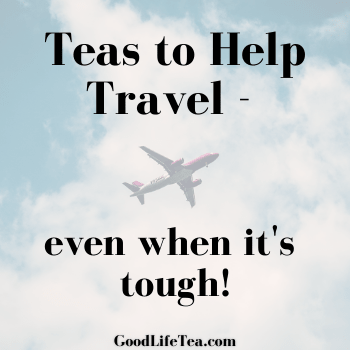 Good morning, tea travelers! We hope that you are all having a wonderful week, enjoying the sunshine, and getting excited about some of the COVID related changes that are going on! One that I am particularly excited about is the opening up of travel. As restrictions become less prevalent and traveling becomes more acceptable again, I have been taking it upon myself to prepare for upcoming adventures using some of our teas! This blog will detail some of the teas I have been drinking to do so!
In Upstate New York, our temperatures have been a bit wacky this past week. We've had a few days of snow, slush, and chilly temperatures followed by days of sunshine and birds singing. Spring here is weird. When we have those days of dipping temperatures, I instantly think to myself, "Goodbye, snow. Hello, Hawaii!". Because I can't just jump on the next jet headed out to those islands, I have instead been, fittingly, brewing myself a couple cups of our Hello Hawaii green tea. As my regular readers know, I'm not typically partial to the green teas for a favorite type of tea. This particular tea doesn't have the grassy, vegetal tones that you would expect of green tea. Instead your palette will be greeted and entertained by the flavors of papaya and pineapple. When I look outside and see snow covering the cars, I quickly close my eyes, take a sip of this tea and am transported to the beaches of Maui where there is a flower in my hair and sand between my toes!
Perhaps the temperatures aren't your concern and you simply just want to whisk your loved one off to somewhere romantic to celebrate being able to travel again. When I think of cities that exemplify and ooze romance, Paris is undoubtably in my top three each time. The thought of strolling the Canal Saint-Martin and staring up at the lights of the Eiffel Tower alongside your loved one is the inspiration for our
Last Mango in Paris
tea. This tisane tea is one that is absolutely packed with flavor. You will find actual whole pieces of mango, orange, and apple that are complemented by elderberries, rosehips, and hibiscus. These flavors dance across your tongue and I highly recommend drinking it alongside someone you are fond of. Not only are the sultry notes sure to entice your admirer, but our tea is a bit less expensive than flights to Paris. Sip on this as you plan your actual trip to "Paree"!
Has COVID diminished your ability to enjoy the historical arts, architecture, and culture of the world? A city noteworthy for all of the above proves Florence, Italy. In Florence you are surrounded by the artwork of Michelangelo, the museum of the great writer and poet, Dante, the beautiful Palazzo Vecchio, and so, so much more. I am dying to get to this gorgeous city, but in the meantime, I am biding my time and exploring it virtually whilst sipping on a cup of our delicious
Florence
black tea. I like to imagine myself strolling through the Piazza della Signoria as I savor each sip of this decadent tea. With its hints of chocolate and vanilla, we are consistently told at the shop that customers have come to prefer this tea to hot chocolate! We are told that with the simple addition of a little bit of milk, this tea becomes a dessert all in its own. While restrictions are still in place, they are slowing being loosened and drinking this will help you to prepare for when Florence is your next stop! 
The last tea that helps me make a slightly more local, but necessary virtual transport to a place of peace is our
Lakeside Calm
. Canandaigua Lake, for me, is a home base, a safe harbor, and a place of serenity. Being beside the lake helps me to find my center, to reset, and brings about a calmness within. When I can't get down to the lake itself and sit beside the rocks on the north end, I find myself brewing a cup of
Lakeside Calm
. Our
Lakeside Calm
is a crisp herbal blend of 
hibiscus, lemon, and lavender. The hibiscus and lavender floral notes are so delicately balanced by the citrus and as you sip this sereni-tea (pun intended), your peace of mind will return and you will find a new clarity for your day. 
I know you are all itching to take off on new adventures just as much as I am, so hopefully you are able to snag a couple of these teas and get through this last push toward travel normalcy! Let us know if you have any other favorite teas that help to transport you to other places. We love to hear about your experiences and your feedback. Stay safe and enjoy the sunshine! - Kaytea :)