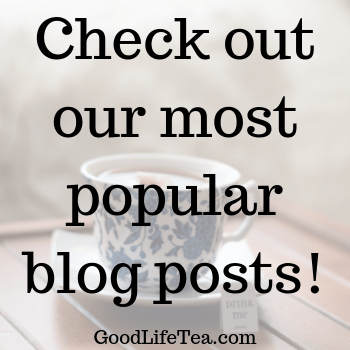 Hi Tea People! It's been awhile since I have seen you all & that is my fault & I apologize! I have been thinking of you all & missing you at this busy time of year!
I am writing today as kind of a recap of our previous blog posts to let you know what our most popular have been & provide you links to access them & enjoy! (If you click the photo of each blog, it will bring you directly to the article!)
To start, I highly recommend checking out "20 reasons to switch from coffee to tea"! (As if we needed 20 reasons!) The article highlights all the wonderful reasons to drink tea & why you should make the jump from coffee! 
 Next up, we have our article on why sun tea is not fun tea and a no go! 
Following this we have our post about why we add milk or tea to our tea! This post is actually part of a series as well, so I encourage you to check out "Why we add sugar" as well as "Why we add lemon"!
Next is an interesting one as Brit delves into the difference between refined and unrefined sugars! Who knew!
If you have interest in tea history, I suggest checking out this next one! This article examines tea culture, pastime, and colonialism. Give it a read!
Continuing with history, this subsequent post will teach you more about the Opium Wars and what role tea played here!
In this next post, Aubrey tackles a frequent question we get here at the shop and something that most don't realize is even a thing! She tells us what the difference between caffeine free and decaf teas!
As we get into fall & our beautiful area morphs into reds, oranges, and yellows we are reminded that winter is coming & furthermore of our tea here, the Ice Wine! This blog details all that you need to know about our Ice Wine & why you need to try it!
If you are feeling rather relaxed and want to relate to the monks, take a gander at this blog post! This post talks about the monks & how they drink green tea regularly!
Moving forward, again, another one I highly recommend checking out, "32 signs You Might Be A Tea Addict"! This one is sure to put a smile on your face!
If you are environmentally conscious & strive to do your part to preserve it, I advocate for this next post on why not to use the pyramid tea bags!
& last, but certainly, not least, we have our article on how to repurpose your old tea tins! This is a great article & has tons of great ideas!
I hope you guys enjoy all of these articles! They are all great & I would love to hear your thoughts on them! Leave me a comment & as always we would love to see you here at the shop!
Best, Kay-tea :)