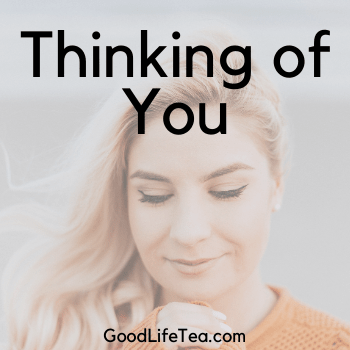 Happy Tuesday, tea friends! I write to you this morning as I am thinking of you all, and coincidentally (or not coincidentally at all, haha!), our next Valentine's Day Collection is fittingly dubbed "Thinking of You Bouquet". 
When you have someone on your mind, for really any reason, what is something that you think to do? Often times, I think to send flowers. Have a new baby? Send flowers! Just engaged? Send flowers! Have a new crush that you are thinking of and want to let them know? Send flowers! While this is a lovely sentiment, there is something to be said about thinking outside the box and bringing something new and different to the table. This is what inspired our "Thinking of you Bouquet" set. 
We are here to help you be new and different! This year, as you decide what to gift your new crush, why not pass on the perennials, and instead try a bouquet of teas! The Valentine's Day Set, the "Thinking of You Bouquet", is the perfect way to say, "You're on my mind. I've been thinking of you (but not in a creepy way). I really like you. Let's sip tea together sometime." 
Introducing our Thinking of You set!
In this set, we have included three of our beautiful teas. Your special someone will receive an ounce of our Blue Sapphire black tea, an ounce of our most popular green tea, Kyoto Cherry Rose, and one of our Jasmine Bursts. 
Our Blue Sapphire is not only delectable on the palette, but also exquisite to the eye as well. The base black tea hails from the hills of Kenya. It is dark, with deep flavors that are sure to impress even the most seasoned of tea drinkers. This tea obtained its name as the dark, black tea leaves are graced with the blue elegance of the cornflower.
Named after the famed Kenyan gemstone, Blue Sapphire is as memorable as it looks.
Next, we chose to add our Kyoto Cherry Rose tea. As mentioned, this is our most popular green tea. 
Kyoto Cherry Rose is an organic loose leaf green tea that is fresh and smooth with excellent depth and body. The natural cherry flavoring and subtle rose hints do not overpower, but quietly suggest the exotic nature of this loose tea; not to mention speak to just how far its traveled to make it to your cup. 
Mild yet flavorful, our Kyoto Cherry Rose Blossom is an excellent green tea for those who find green teas to be too grassy, vegetal, or just "too green." If this isn't enough, let our friend Aubrey tell you a bit more below! 
Lastly, we chose to include one of our Jasmine Bursts in our "Thinking of You Bouquet". We chose this as you may be worried that a bouquet of teas may not give the "wow factor" that you expect from a bouquet of flowers. Fear not, friend. This is a hand-tied green tea and jasmine flower tea ball that, quite literally, "bursts" or blooms in your glass as it steeps. Please encourage your future flame to use a clear glass when steeping so that they can watch this bloom, just as your love will do! 
As you find yourself thinking of your crush these next few weeks, consider sending them a bouquet of teas! Stay warm and safe! - Kaytea :)