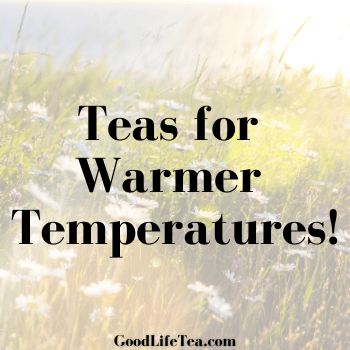 Hello, sweet tea friends! I hope that you are having a wonderful week, and even more so, hope that you enjoying the fabulous weather we have been fortunate enough to have! I do believe spring has sprung! (Don't kill my positivity and tell me to expect another snowstorm!). Speaking of the rising thermometer, I thought today, as I write to you about the excitement I have for the onset of spring, I would highlight some of our teas and tea ware that are specifically good for the upcoming warmer temperatures!
In order to brew all of the lovely teas I'm about to detail, you will need something to brew it in. Our absolute favorite way to make iced tea here at Good Life Tea is in our
Mist Tea Pitcher
.
Not only is it astonishingly easy to use but it makes certain that your iced tea comes out perfect and ready to enjoy every time. The
Mist Tea Pitcher
 is made of
borosilicate
glass. This ensures that if you choose to make your iced tea with boiling water, it will not crack. You are probably reading this thinking, "Kaytea, what do you mean if I 'choose' to use boiling water to make my tea? Don't I have to boil water to make my tea?". No worries, my friends. I was naive to the process of cold steeping as well! Think of when you go to your local coffee house and order a cold brew coffee. Cold steeping tea is the equivalent to this for tea. Cold steeping is what makes the
Mist Tea Pitcher
so easy to use. In order to steep your tea, all you need to do is cover the bottom of the pitcher with the tea of your choice (about two heaping tablespoonfuls), fill the rest with water, and stick it in your fridge for 2-6 hours. I usually make mine before bed, let it steep overnight, and am elated to wake up to a fresh pitcher of delicious iced tea in the morning!
 Because the lid has a built-in filter which strains the tea as you pour the tea over ice, you don't have to worry about getting pieces of tea in your glass either. 
It truly is the absolute easiest way to make iced tea and there are so many perks! Perhaps, you don't like the bitter taste that comes along with over steeping your tea. If you are like myself, you may sometimes forget that you have started to steep tea and walk away for an extended period of time, only to return to a bitter, undesirable, lukewarm letdown of a cup of tea. With cold steeping of tea, this doesn't happen. If you instead choose to use the
Mist Tea Pitcher
to cold steep your tea, over steeping is impossible. You can let your tea leaves remain in the water for as long as you like without fear of an astringent first sip. 
If you don't have a full two hours to wait for steeping or simply just can't wait to sip on your delightful drink, you can make this tea in minutes as well. As mentioned, because the pitcher is made of
borosilicate
glass, it will not crack when boiling water is added. For a quickened tea making process, cover the bottom of your pitcher with tea (just like before), add boiling water about half way up, allow your tea to steep for 3-5 minutes (this depends on the type of tea you are using), and then fill the remainder of your pitcher with room temperature water. Pour your concoction over a tall glass of ice, and wah-lah, you have a tasty iced tea treat to enjoy! (The
Mist Tea Pitcher
mentioned here holds 50 ounces, but if you have a bigger family or just REALLY like iced tea, we have a
68 ounce
option as well!)  
Now let's talk about what you're going to put in this amazing piece of tea ware! As I stepped outside this morning and was greeted by the dewy air and sunshine, I closed my eyes, took a deep breath in, sipped my iced tea, and was transported to the peach orchards of southern Georgia. Can you guess which tea I chose from my collection to throw in my
Mist Tea Pitcher
last night? If you suspected that I may be drinking our
White Peach
, you would be correct! White teas are delicate and offer subtle flavors which is balanced perfectly in this tea with the tangy, juicy flavors of peach. I love these tea both hot and cold, but something about drinking it over ice in the morning speaks to my soul. It is a gentler way to ease into the day, as opposed to coffee, and still offers a medium amount of caffeine. The cold gulps, combined with the sweet air this morning, gave me chills that awakened me and prepared me for the work day ahead!
If subtle isn't your style and you are looking for more of a flavor packed punch, you may lean toward our tisanes. Tisane teas are comprised of dried fruits and herbs that when infused release their flavors with vigor and energy. They are also caffeine free, so should you be looking for a healthy alternative to Kool-Aid or sugar ridden fruit juices for kiddos, you have found it! One tisane tea in particular that proves especially popular with little ones is our
Strawberry Kiwi
. As it is a classic flavor for many well known juices and candies, we find that children are quick to pick this one. The fruitiness that is derived from the dried strawberries is balanced with the tang of dried kiwi. Whilst drinking this, you will be transported back to simpler times of childhood bliss and the excitement for the summer days ahead will inevitably start to grow!
It may be that when drinking iced tea, you are more comfortable and used to using a black tea. We do find this to be more mainstream and that's totally okay! If this is your preferred practice, one black tea you may want to try out is our
Blue Sapphire
. This beautiful black tea hails all the way from Kenya. It has the traditional flavors associated with black teas but is highlighted with blue cornflower petals that render to its gorgeous name of "
Blue Sapphire
". With a medium caffeine content, this is the perfect tea to help you ease through your afternoon. When I make this one, I like to add lemon (about one whole lemon for the entire pitcher; sliced) as well as some of our
amber sugar crystals
. The lemon adds just the right amount of refreshing pungency that I am seeking and is balanced by the sweetness of the 
sugar crystals
. Because these crystals are unrefined, they will melt slowly as well, leaving a caramel tone to be enjoyed in each and every glass over ice. 
Because I've touched upon most of our other tea types, I can't finish this blog post without mentioning my favorite green tea to make in my
Mist Tea Pitcher
.
Citron Green
, as I have mentioned before, is my absolute favorite of our green tea collection. It isn't vegetal or grassy, like you would expect from a green tea, and the citrus notes add just the invigorating tone that I am so often searching for in the morning. I say, "in the morning", because this tea does have a moderate caffeine content. When I wake up to a pitcher of this delightful blend, my palette is greeted with the flavors of lemon that play throughout my sip. The clean aura that is presented by the citrus aromas remind me of the clean slate of a day that I have ahead of me! 
As the temperatures creep up and the spring sets in, think about trying out one of these teas in a new
Mist Tea Pitcher
from us! You will not regret it and it offers you the opportunity to try a flavor of iced tea each day! Let us know if you try something and love it! Let us know if you try something and just aren't feeling it. Most importantly, let us know how you are and what we can do to better serve you. We love to hear from you all! Stay safe and enjoy some ice-iced tea, baby! - Kaytea :)