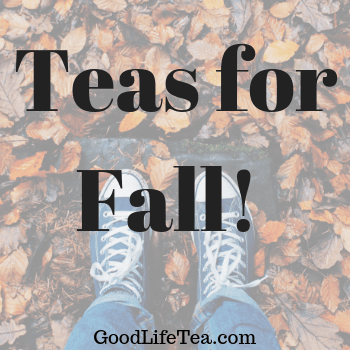 Greetings, TEAmmates! (See what I did there
) Hoping with sincerity that you all are able to enjoy this beautiful weather we have been experiencing lately & more importantly, enjoying it while it lasts! Speaking of which, I'm sure you all are aware of & have seen that Starbucks has recently released it's seasonal Pumpkin Spice drinks. If you haven't heard this news, then please remain calm. 
While these drinks are a fan favorite, highly anticipated, & while I would also like to commend your enthusiasm, I would also encourage that we both enjoy the remainder of this beautiful summer season while we have it, as well as offer you some alternative & tasty tea options that are comparable to the coveted PSL! 
Let's start with our Heaven Sent Chai. The flavors in this tea include clove, cinnamon, ginger, and black pepper, all on top of the classic cardamom-infused black tea base. This chai tea certainly brings the spice factor that is sure to keep you toasty on the upcoming fall days.
Speaking of these approaching autumn days & being in the Finger Lakes, we are incredibly blessed to live in such a beautiful area at this time of year. The continual changing colors of the leaves around lake coupled with a cup of our Canandaigua Chill are the perfect combination for this fall. This beautiful tisane tea is comprised of classic Upstate New York flavors of apple, strawberry, & spices. The fruity flavors it starts with are complemented beautifully by hibiscus, cinnamon, & clove that it finishes with. 
Lastly, because of it's namesake, we recommend out African Autumn tea for this season! This rooibos tea hails from South Africa & is notably caffeine free! It is also known for its antioxidant & sleep aide properties. Hints of orange & cranberry tantalize your taste buds & help to hold onto the flavors of summer!  
If you have any other suggestions for teas to welcome the fall, let us know here! We love your feedback! Stay cozy & enjoy this introduction to autumn! - Kaytea :)