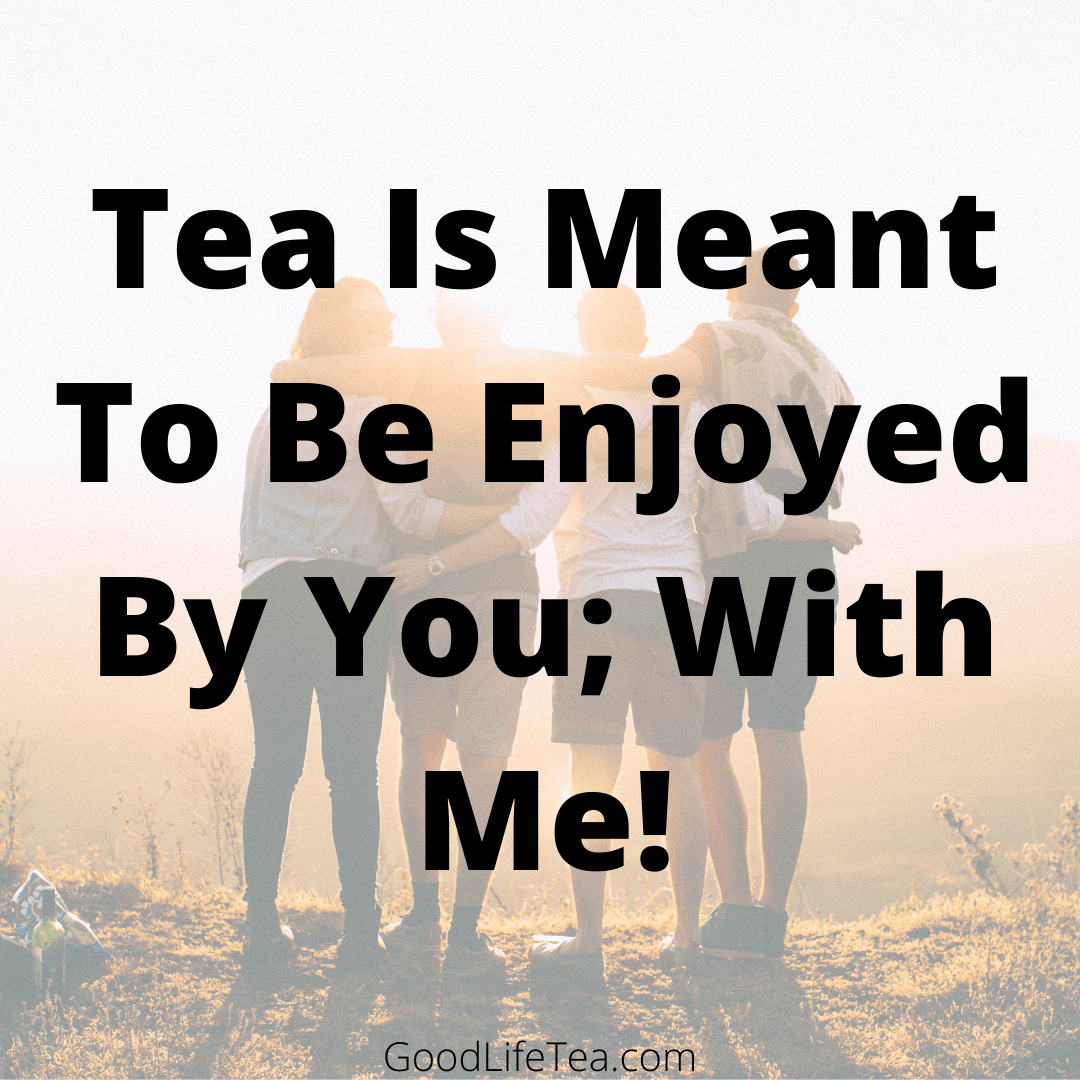 Good morning, tea friends! I hope you all are having a wonderful week, are staying warm as the chilly temperatures start to move in (We were almost at 60 degrees this week - in December!), and, most importantly, what we are going to talk about today, were able to connect with other people!
As we are all aware, today especially, it is becoming harder and harder to connect with other individuals. Even when we can see each other physically in person, often times our facial expressions are hidden behind a mask or we are asked to maintain a safe social distance. As quite the social butterfly, this has been so difficult and disheartening for me. I miss the cavalier nature of hugging those we love. I miss smiling or making silly faces at babies in line at the grocery store. I miss laughing across a table from someone over a cup of Good Life Tea. I miss this last one, especially, as tea, in it's native Eastern culture, is intended to be enjoyed with others! 
As mentioned in a previous blog post on this topic, there are a variety of reasons for this trend in tea toward reclusiveness. These reasons are only heightened and intensified by the manifestation of COVID-19. In a time like this, for any of you, like myself, that are missing sharing moments vis-à-vis, I figured we would try and deduce some innovative solutions.
I'm sure you have all become acquainted with our new friend, "Zoom" (or FaceTime/Skype; whichever you prefer). I use this technology, not only for work these days, but also to maintain contact with my girlfriends both near and far! The ladies that I lived with in college and I have a standing weekly meeting on Zoom that we use to catch up with each other, laugh, and just be together. About a month ago, I made it a point to send each of my 6 best friends a couple of our tea bags along with some of our most popular tea, Hot Cinnamon Spice. I encouraged them to make this tea a few minutes before hopping on our Zoom call so that it would almost be as if we were enjoying it together! They all loved this and we have agreed to make this a tradition for each call, trying a different tea each time together! It has been so fun and a way for us to feel more so together when the coronavirus is trying to keep us separated. 
Another option for overcoming the obstacle of social distancing nowadays, is connecting with comrades outdoors! Yes, the temperatures may be slipping, but throw on a sweater, grab your best travel mug (we sell some special tea infuser ones at the shop!), and meet your nearest and dearest at a local park to keep in touch over tea! 
Lastly, another way I have been enjoying tea in the company of others these days, is I have made it more of a point to, on a regular basis, make tea for my family that I live with. As I'm sure many can relate, we are all home together and secluded away from the general public more than we had been accustomed to. While this is been an adjustment, and we certainly do get under each other's skin, it has also been a wonderful opportunity for us to spend quality time together. I have been making different teas for us to try together and enjoy. Because we have been enjoying them together, we have found new favorites! One, that my siblings have become especially fond of, is our Sleep Better tea. This herbal tea is a powerful blend of valerian root, lemon myrtle, verbena, spearmint, chamomile, and lavender. My siblings swear it has helped them get the best sleep they have ever gotten and we have heard numerous reviews of it relieving insomnia! 
Do you have any other ways that you have found to enjoy tea with those you love in these uncertain times? Or have you found any teas lately that you particularly love and are longing to share with a loved one? Let us know! As always, we absolutely love to hear your feedback! I hope that you all are staying safe, healthy, and are able to find ways to connect with others! Happy sipping! - Kaytea :) 
P.S. Don't forget to come visit me this Sunday from 11AM-4PM at the tea shop!
P.S.S. When I was writing this blog post, I was checking out other posts that referenced the same things. I found this one, and I highly recommend checking it out if you want to read more on the topic!