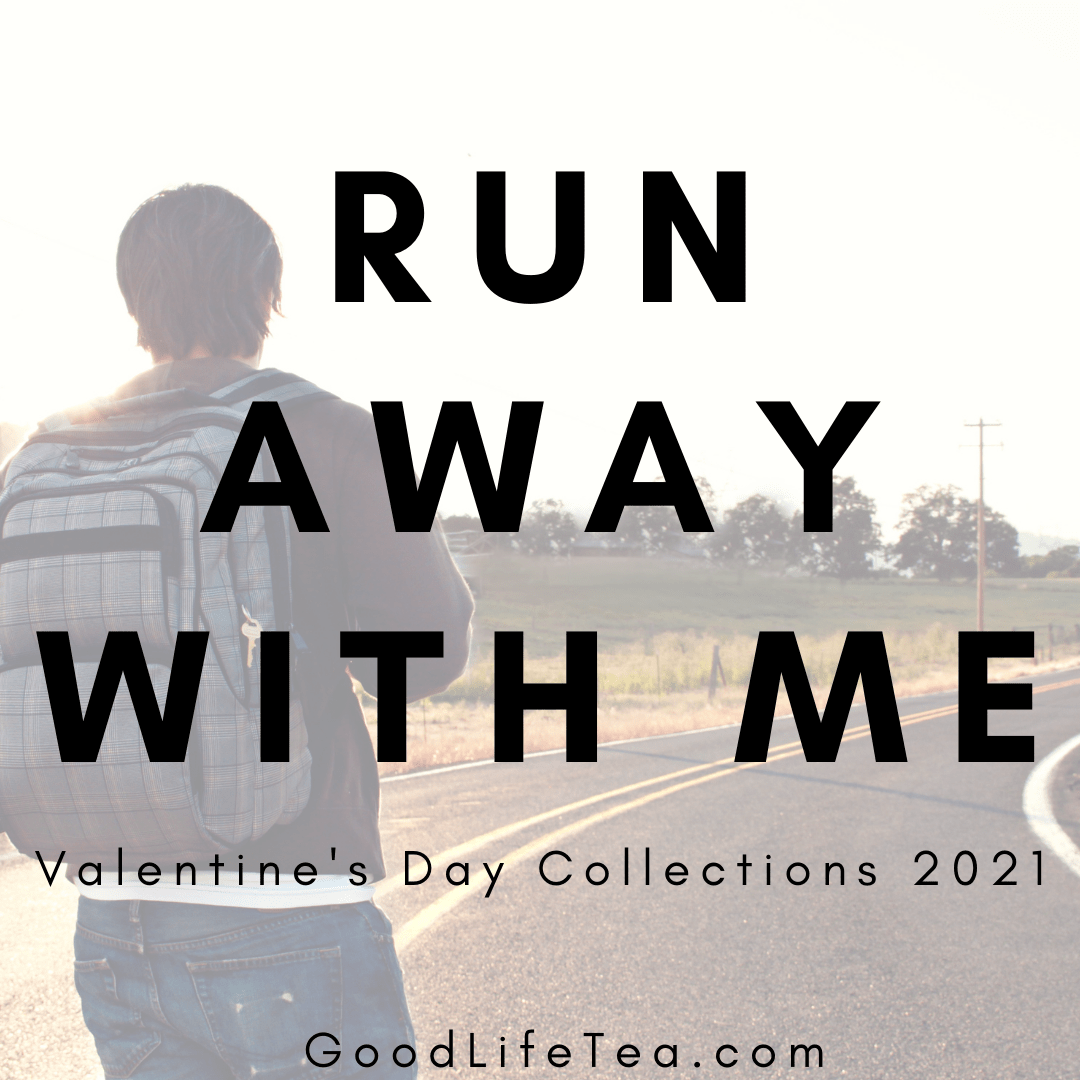 Good morning, tea friends! We hope that you all have been having a wonderful start to your new year and have been keeping up with your resolutions! We have some exciting news.
So we noticed that you all loved our curated Holiday Collections and thought "Hey, it's never too soon to start spoiling your sweetie!". We decided to come up with these new Valentine's Day collections for you, and more importantly, your loved ones! The next few weeks I will be writing our blogs to announce each of these collections in a little more detail, but if you just can't wait, here they all are right now! 
For now, today, I am so pleased to bring to you our "Run Away with Me" set!
"Oh, the bliss that is associated with leaving all of our problems behind and running away with someone we love! That is what this collection exemplifies and sipping on either of these will make you want to do just that! It is comprised of 4 ounces of each of the following." 
First, we decided to include our Hello Hawaii. Hello Hawaii is comprised of a beautiful base green tea that is then only enhanced with real pineapple and papaya. Just as it says in it's description, if you've never been to Hawaii this is an affordable vacation. If you've been there, this will quickly transport you back. Think of sipping on this with your soulmate and indulging in the tantalizing taste of that tangy pineapple! We've included 4 ounces of it here for you both as it is delicious both hot and cold! Let us know which you prefer!
Next, we knew that along with Hello Hawaii, we had to include our Peaceful Journey oolong tea. Oolong teas, for those who are unfamiliar, are teas in which the leaves are both wilted and steamed. We, at Good Life Tea, say that they are the cross between black and green teas. For Peaceful Journey, this base tea is then highlighted with hibiscus flowers giving an exquisite floral tone. When you feel the weight of the world and things just aren't going your way, does anything really sound better than walking hand-in-hand with your paramour through a garden of hibiscus flowers? Take that peaceful journey today with the 4 ounces of our "Peaceful Journey" that are included in this set! 
This is just the first Valentine's Day Collection! Check back every upcoming Tuesday and Thursday to see which one we announce next! I can't wait to share them all with you and see the reactions from you and your dearest! Stay cozy! - Kaytea :)