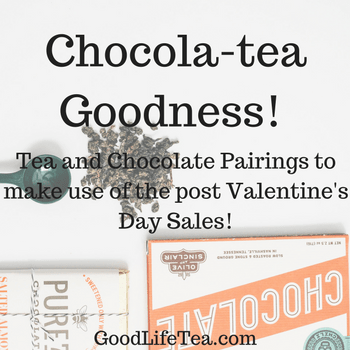 Good afternoon, my quali-tea people! I am certainly hoping you all had a wonderful Valentine's Day with your special someones and that love is continuing to fill all your days as we get through this winter together. In thinking about Valentine's Day passing and reminiscing on my other favorite holiday – Black Friday -- I came to the realization that another delightfully delicious day is upon us. In the case of this year, Brown Thursday, or the glorious day when all the Valentine's day chocolates are reduced in price! Furthermore I thought, why not enjoy two of my most favorite things, tea and chocolate, together and find out which ones go well together!
            To begin, I wanted to make sure I separated my chocolates into categories; dark, milk, and white. Moreover, I wanted to further categorize depending on characteristics of citrus, fruity, floral, earthy, nutty, chocolaty, etc. I thought the most prudent and relatable way to do this would be to pick different chocolates I knew to be familiar to most people (and more likely to be on the 50% rack from Valentine's Day!). I've tried seven pairings to report back to you guys on and recommend!
1. Let's start with my personal favorite, and truly guilty pleasures in the chocolate department, the "Tiger Butter Fudge" from our own little Sweet Expressions on Main Street in Canandaigua. This fudge is comparable to Reese's peanut butter cups on some kind of steroid with a white chocolate swirl just because. I dream about this fudge at least once a week and am ashamed to say that I have been the recipient of their "Buy 1 pound of fudge, receive 1 free ¼ pound" deal more often than I care to share. Needless to say, I highly recommend. With this little taste of heaven, I found that due to it's richness I needed a light, rather delicate tea to balance it out. I chose our Darjeeling tea with its flavors of muscatels as a perfect mate. Additionally, our Darjeeling decaf so it is lovely to have with your fudge after dinner and will not keep you up!
>>>>> Try this Darjeeling Tea Strainer with your tea! <<<<<
2. A chocolate that is often forgotten but always seems to end up in the bowls on secretary's desk or attached to the Valentine's of my younger sister is the Crunch Bar. And while I don't particularly think of them in my top 5 favorite chocolates, in my world, it's no chocolate left behind. When considering which tea to pair with this chocolate anomaly, I was struck by the rice krispies that are wedged within. These crispy corn pops reminded me of the toasted rice that is seen in our Genmaicha tea! When I began working here, Susan, the manager here, taught me the interesting fact that Genmaicha tea is a development from during the Japanese war when tea leaves were more scarce, the Japanese farmers substituted this inadequacy with the popped rice grains. Along with this, and the unique toasty flavor of the tea, I found that it is perfectly complemented by a Crunch Bar!
>>>>> Learn more about Genmaicha here! <<<<<
3. Next, I wanted to explore the chocolate's that we are all familiar with; the Hershey bar or kiss. This chocolate is just a family favorite and a staple in everyone's chocolate repertoire. Being a milk chocolate by name, I wanted to pair it with tea's that take milk well. Tea's that classically take milk are the Assam and the English Breakfast black teas. Their heartiness paired with the milk in your chocolate allow the tea to be enjoyed black and for you to really explore all the notes within. I thoroughly enjoyed this pairing! (and not only because it allowed me to have chocolate in the morning!)
4. A chocolate that everyone is left drooling at their TV screen with and entranced by the woman's airy tone is the Ferrero Rocher. I have found that I have to restrain myself to only buying the singly packed ones because, these delectable little buggers can almost eat themselves! Because of their nutty, hazelnut nature I knew I had to pair them with our Florence tea! Additionally, they are made by Italian chocolatiers! How fitting! Our Florence Tea features a beautiful dessert like sweetness combined with chocolate, vanilla, and various nuts. It pairs impeccably with the Ferrero Rocher chocolate, especially for me, because you only need one!
5. Another one of my chocolate vices is white chocolate. I love white chocolate with almost anything but a true treat is white chocolate with raspberry for me. It reminds me of a decadent cheesecake and keeping with my New Years resolutions, accompanied by sacrifices for the Lenten season, I unfortunately cannot enjoy that slice of cheesecake. I have found that the Lindt White Chocolate truffles are an absolutely excellent partner to our Decaf Raspberry Tea, which again, due to decaffeination, is perfect for before bed time without the calories or added sugars! Just one white chocolate truffle and a cup of Raspberry Tea and you may forget about the cheesecake. You may. 
6. Another new favorite chocolate of mine that I was introduced to at one of my best friend's recent baby shower's is the Lindt Strawberries and Cream White Chocolate Truffle. This creamy decadence is pink and white in color so I am not sure if it is a Valentine's Day special. What I am sure of is it does pair excellently with is our Angel Fall's Mist Tea. Angel Falls Mist is one of our most popular tisane (fruit) teas and features tart citrus and strawberry notes that contrast the creaminess of the chocolate! 
7. Last, but of course, certainly not least, our Hot Cinnamon Spice Tea, our most popular tea can be complemented by another one of the unique things at Sweet Expressions in Canandaigua, chocolate dip jalapeños! After biting into one of these, the heat you feel can be neutralized by by the creamy chocolate and then invigorated again with the Hot Cinnamon Spice tea. It's a unique and interesting experience for your palette that I highly recommend! 
All of these combinations have their own special something to offer! I highly recommend trying them, but even more so, trying some different combinations of your own and commenting here to let me know what you have found that works! One last tip I have for those of you that enjoy the post Valentine's Day candy sales as much as 'moi' is to use the conversation hearts to sugar your tea! I hope you're staying warm and feeling the love through the rest of the week! -- Kay-tea :)