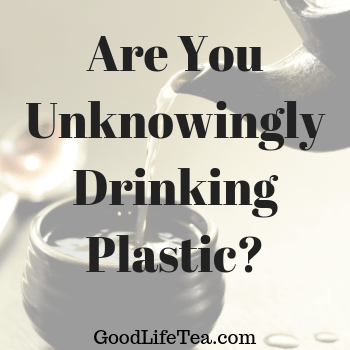 Happy weekend, friends! We hope you all had a wonderful week & that you have plans to enjoy the beautiful weather that is predicted for this weekend! 
Part of enjoying this beautiful weather & tea in general is avoiding ingesting plastic. Kind of weird & out of the blue, right? Wrong! Lately we have seen various news articles that are warning tea drinkers of tea bags shedding billions of microplastic particles into every single one of their cups. Yuck! No one likes to think about willing eating plastic! 
Moreover, we at Good Life Tea knew this & warned about it over 5 years ago! This blog article details just how terrible tea bags can be & why you should absolutely avoid them! 
Just in this past month we have seen numerous articles & videos detailing just how much plastic is actually released into your cups & we feel it is our duty to relay this to you & warn you! 
Recently a Canadian team conducted a test in which they tested four different plastic tea bags to see how much microplastic was released into the water when steeped. The team cut the bags, washed them, then steeped them in 200 degree water. They then used electron microscopes & spectroscopy to analyze the plastic molecules in the water. An uncut bag was used as a control to ensure that it wasn't the cutting of the bags that caused plastic molecules to be released. They found that more than 11 billion microplastic particles had seeped into the water that would otherwise be consumed by the tea drinker! To test the effects these particles would have on humans the team then exposed water fleas to the contaminated water. While the microplastic particles did not kill the fleas, they saw significant behavioral effects & developmental malformations! What?!
Just when you thought you were being healthy & drinking your tea, you actually were ingesting billions of particles of plastic! Fear not, though! We have just the solution for you; our favorite, Loose Leaf Tea!
Using loose leaf tea, as opposed to tea bags, completely eliminates the risk of ingesting plastics. By using both loose leaf tea & an infuser you not only are benefiting your personal health either. You also are benefiting the environment by eliminating the waste generated by tea bags. We have a variety of infusers here for you to choose from & if you have any questions about how to use them, we are happy to show you. We also have a few blog articles here that detail infusers, why to use them, & how to as well! 
Also, if you are dead set in your ways of using teabags we have sets of both 100 & 20 count teabags that are environmentally friendly, biodegradable, made from sustainable forest products, & most importantly, do not contain plastic! We love these bags for packing for trips, to have at the office, or when you just need a quick cup of tea on the go! You can pre-make the bags with your favorite tea & just keep them in your bag or purse & save your infuser for when you are home! 
We hope that you all have learned a little something from checking this blog article out & that you decide to switch to loose leaf! If you have already done so, drop us a comment on why you did so, your experience with switching, & any tips you have for someone new looking to switch! Hoping you enjoy the rest of your weekend & that you don't ingest anymore microplastic particles while doing so! :) - Kaytea :)