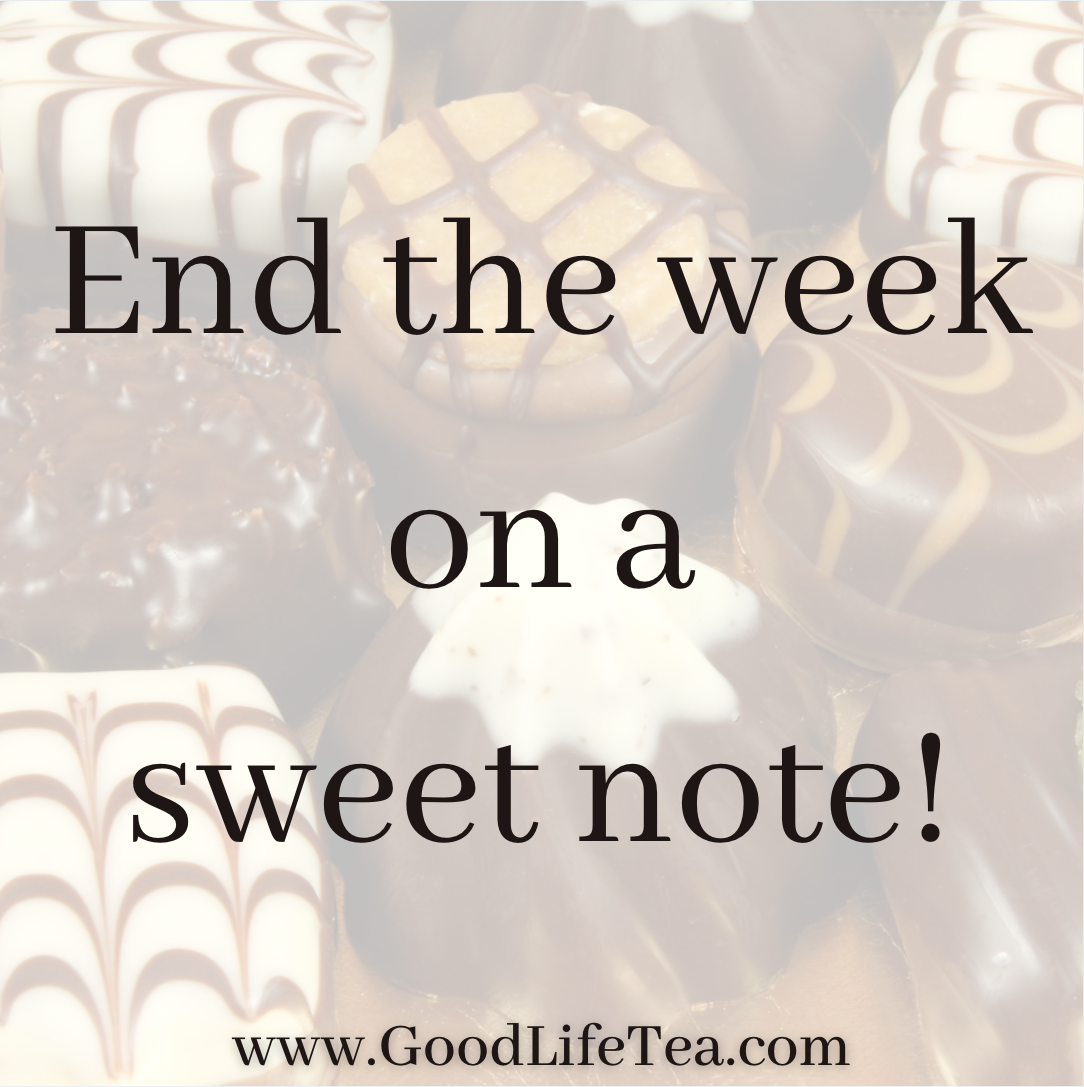 Good morning, my sweet friends! I say sweet, as today, we will be discussing some of our sweeter teas that are sure to satisfy even the most cumbersome of a sweet toothache! 
We know that when Friday rolls around and after a hard week's work, you are just fiending for something sweet. I am too! And, I'll be honest, that sweet tooth rolls right with me into the weekend. By Sunday, I again am craving something decadent to help me keep those Sunday scaries at bay. It's inevitable and it happens to all of us. At Good Life Tea, we want to help you with this, and at the same time help you to avoid those higher calorie, high sugar sweets and confections that aren't too good for the waistline, sleep schedule, and basically everything in between. We have a few teas that scratch that itch for a Hershey bar, but don't make you feel guilty afterwards which I'll be detailing below!
I'll start with our
Chocolate Truffle Oolong Tea
. Have you ever had a chocolate truffle itself? If not, you are missing out and I highly recommend that this endeavor be moved immediately to the top of your bucket list (It's a rather easy one to check off and when you do, check out our neighbors at
Sweet Expressions
! They have amazing chocolate truffles!). A chocolate truffle, in essence, is chocolate ganache, coated in a hard chocolate shell, that is then rolled in chocolate confectionary sugar. If you are a self proclaimed chocaholic, this is your dream come true. These treats are pure perfection and our
Chocolate Truffle tea
emulates this decadence. It is an oolong tea, meaning it is a cross between a green and black tea (the leaves have been both wilted and steamed). Within the tea leaves you will find rooibos tea, apple pieces, cacao beans, cacao powder, chocolate bits, white chocolate bits, and natural chocolate and vanilla flavors. All of these flavors combined create an absolutely exquisite tea that I thoroughly enjoy after dinner. It is just as satisfying as that slice of cake that keeps eyeing me from inside the refrigerator, but doesn't make me feel guilty or keep me up with indigestion! 
Another tea that we regularly recommend to those who tend toward the sweeter side of the spectrum proves our
Florence tea
. In this truly indulgent tea, you will find the flavors of chocolate, vanilla, almond, and hazelnut. It's namesake is intended to remind you of the elegance of the city of Florence, Italy and the feelings of indulging in its beauty. As I used to drink my coffee with hazelnut creamer from time to time, I enjoy this tea for an alternative as it still gives me those hazelnut notes that I so enjoy, without the added sugars or sugar and caffeine jitters that follow. Also, who is to say you can't have chocolate in the morning? Not me! I recommend it! 
Another city named tea that we are sure to suggest to our customers who are partial to the sweets is our
Paris tea
. Just as the city of Paris has so many different areas to explore, this tea is based upon a multileveled black tea blend that is highlighted with vanilla and caramel notes. I love to recommend this tea to those who tell me that while they definitely have a sweet tooth, chocolate isn't necessarily their first choice. This tea plays initially more on the black tea base in which you will taste hints of bergamot from the Earl Grey component and then leaves you with the sweeter notes of vanilla and caramel to stew with as you swallow. This is such a fun tea to sip because depending on how quickly or slowly you do so, you are sure to notice different flavors or hints of flavors between each sip. If you or someone you know loves to satisfy their sweet tooth but isn't particularly drawn to chocolate per say, I highly suggest trying our
Paris tea
. 
The last tea that I have chosen to include in this blog article proves our
Scottish Caramel Pu-erh
tea. Just as I suggested above concerning those who have not tried a chocolate truffle, to those who have not indulged in a Scottish caramel, move that to now #2 on your bucket list (you can get these on your trip to
Sweet Expressions
, as well!) . These caramels are the purest of caramel wrapped in only the finest of chocolate. They melt almost instantaneously upon landing on your tongue and are pure deliciousness each and every time. In order to imitate this flavor profile, our
Scottish Caramel Pu-erh
is a base Pu-erh black tea, that is layered with sweet caramel, butterscotch, and almond (be careful to those with nut allergies, as this contains actual pieces of almond). We routinely hear that this even just smells of creamy caramel. We also routinely hear this to be a favorite tea to regular coffee drinkers. Don't take it just from me though. Below I have included a video of one of our most favorite customers and her son doing a review of this tea! Check it out!  
As the weekend rolls around and that sweet tooth starts to ache, instead of reaching for the candy cupboard, try instead toward the tea cabinet! You won't be disappointed! Let us know which tea helps you to stave off those sugar cravings and satisfy your sweet tooth. We love hearing from you. I hope you all have the most wonderful weekend and are able to get outside and enjoy some of the sunshine! Happy sipping! - Kaytea :) 
P.S. When you try a tea, don't forget to leave us a little review! We love your feedback and will even respond personally to each one! We can't wait to see what you try next!