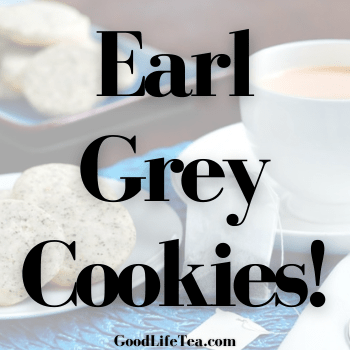 Good morning, tea friends! Who here is a fellow cookie monster of mine? When you have had a tough day, do you find your serenity at the bottom of the beloved cookie jar? When I say "double-stuffed", does your mind automatically say "Obviously"? When you think of the best smell that you could imagine, does the thought of your mother's fresh baked chocolate chip cookies come to mind? If you answered yes to any, or all, of these questions (all, for me), you are, my friend, a cookie monster. Hey! There is no shame in that game! The heart wants what it wants, and in our case, that is cookies.  
Lucky for you, we are so pleased to bring to you a recipe sent to us that incorporates not just cookies, but tea as well! Can you believe it?! Two of our favorite things combined! To say we are thrilled would be a stark understatement! 
I have included the recipe below and will give you our feedback on the cookies after the recipe!

As a side note, June is traditionally celebrated as Earl Grey Month, so this is just a very fun way to celebrate as we close out the month!
We made these and -"Ooo doggie!"- they are something special! To make them, we chose to use our
Decaf Earl Grey
tea. We did so due to the decaf nature of the tea and the beautiful flavor that it provides. We wouldn't discourage using any of our Earl Grey teas to make these, this is just the blend that we chose for our first batch. If you do choose to make these, and, perhaps, choose our 
Earl Grey with Lavender
, please let us know what you think!
Yeah, you!   
After trying these cookies, these are our reviews!
Kaytea - ;) : I think you can tell from my above "Ooo doggie" that I am a fan of these cookies! As a child my mom would regularly make Earl Grey tea for my siblings and I, with milk and sugar so these cookies, along with a glass of milk, provided a trip down memory lane for me! I plan to make these again soon and I loved the idea of having them at a future wedding/baby shower! They are light, delicate, and just the perfect amount of sweet! I also can't wait to try this recipe with a few more of our teas!  
Sip On Susan: "I loved these cookies! They truly embody the Earl Grey flavors well and I appreciate that you chose the decaf, as you know how caffeine affects me! I, too, love the idea of serving these at a wedding or baby shower as they are elegant, in their own way. Perhaps maybe we could try a cookie with my personal favorite, Autumn Sunset tea, next!"
Genmai-cha-cha Geena: "I am working on transitioning to a vegan diet lately, so unfortunately I can't try these due to the butter, but I love the idea of using our teas in food! As I am working to adapt to the vegan lifestyle I have learned about using different substitutes for animal products. If we tried making cookies or other baked goods again with our teas, maybe we could use a mashed banana or applesauce instead of butter. How good would our Canandaigua Chill be with this? Let's try this ASAP!" 
I love that Geena thought to incorporate substitutes to include our vegetarian or vegan customers! This will be so fun to continue to explore! Do you have any teas in particular you would like us to give a try? Let us know and we'd be more than happy to make them and give our reviews! We'll never pass up an opportunity to consume cookies! Stay safe, cool, and enjoy some sweets! - Kaytea :) 
P.S. Just a reminder, we will be closed Monday, July 4th, in honor of Independence Day! We hope that you all have a wonderful day with your families!