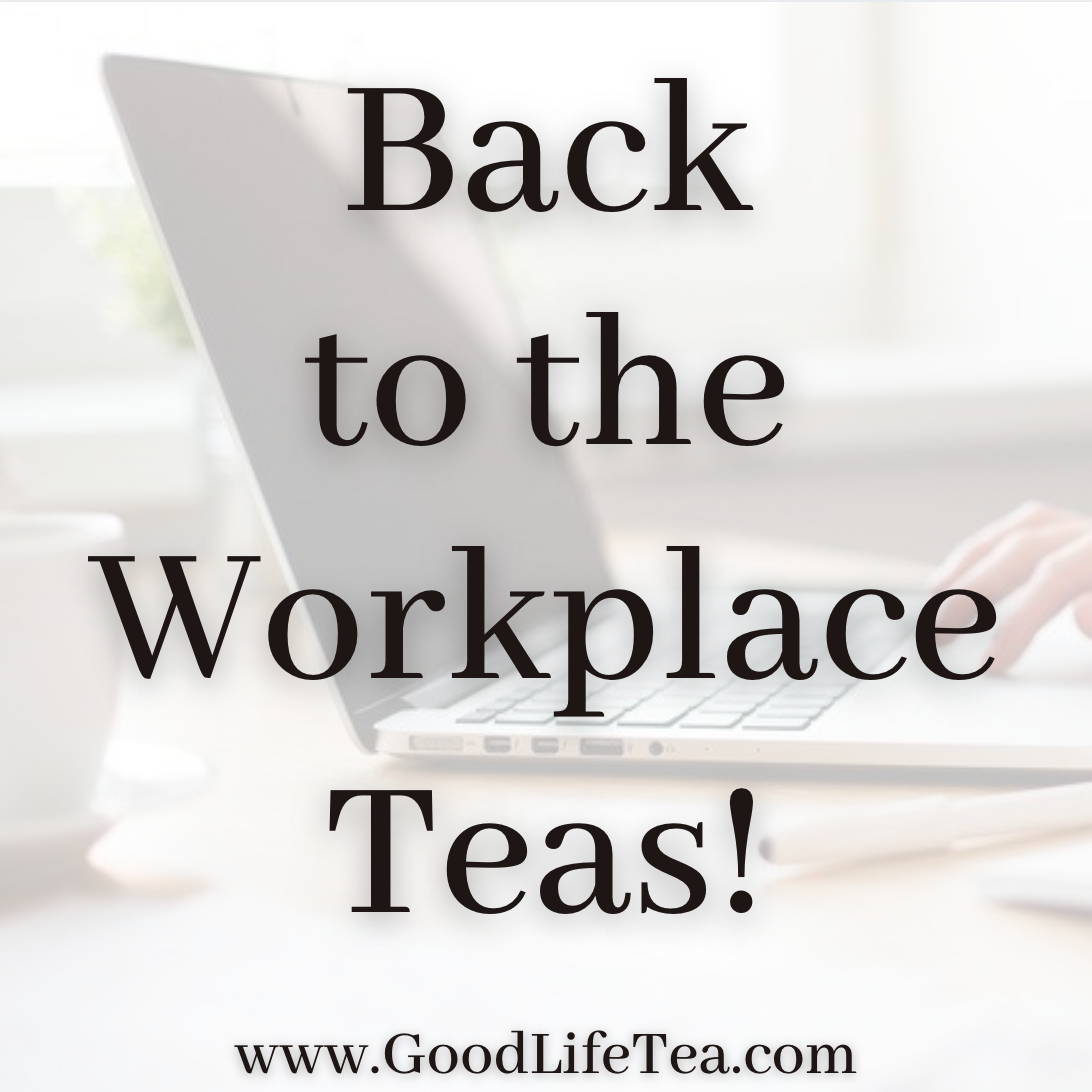 Good morning, tea worker bees! Over the past year and a half, we have experienced getting sent to a work from home environment, the hybrid schedule of half the week in the office, half out, partially going back into the office only to be sent home when one of our coworkers was exposed, and everything in between. It's exhausting! Lately though, I have noticed that more and more places of work are pushing to give their employees at least the opportunity to come back into the office if they feel this will positively impact their output. I know so many of my friends are looking forward to this, as they tell me that it is getting harder and harder to remain productive in their own homes. Do you feel the same? In this blog post, if you are headed back into your office, classroom, or place of work we will give you some ideas for different types of teas or tea ware that you may want to bring with you to help get back into the swing of things. Let us know what you think and your own feedback for things that work for you!
Being at home, we are all so used to having all that we need to make our tea right at our fingertips. We can boil water right on our own stove. We have our tea kettles, our own infusers, our fully stocked tea cupboards, etc. When you go back into the workplace, this won't be the case and you won't be able to make your teas so easily all day long. To ease back into not working from home, I suggest perhaps grabbing one of our
electric tea kettles
that you could keep with you at work. This allows you to brew hot water all day long at your convenience and without the need for a stove! It also has different temperature settings for the different types of tea you may be enjoying. You may be thinking that this is a bit large to keep at your desk as it holds almost 2 liters. But to that, I would suggest that you think about keeping it in your communal work area where everyone can enjoy its benefits. The people you work with you may not have seen in over a year and here is a way to let Good Life Tea help you quickly get on their good side again! 
If you would rather keep to yourself at first, and really wade more slowly back into the workplace waters, maybe a smaller piece of tea ware better suits your fancy. In this case, I would recommend, alternatively, our
Stump Teapot
. This, small but mighty, little guy holds a whopping 18 ounces to help you through your day. It comes fully equipped with an infuser already inside and is also available in 9 different beautiful colors. I love this teapot because it is small enough that you can absolutely have more than one type of tea throughout your day, as well as, keeps your tea warm as it sits in it and waits to be sipped. It is also large enough that you are having more than one cup of each type of tea and you don't have to get up to keep making cup after cup once you have made a full pot. Another perk of the
Stump Teapot
is that it can stay at work right at your desk. It is compact, so it doesn't take up too much space, and can be easily cleaned, quickly in your communal kitchen area. 
Now let's talk about a couple teas that we recommend for taking back into the workplace with you. Doesn't it just kind of put a damper on things realizing that you won't have the array of choices of tea that you have at home with you right next to you in the office? I feel you on that. For this predicament, I would recommend picking a few of your top favorites and buying an ounce or two to keep with you at your desk. One of my favorites, and one that I think would really help get you get through your first few weeks back includes our
Roasted Yerba Mate
. I love this tea for so many reasons, but I chose to include it here for its properties of giving drinkers an energy boost as well as helping with focus and alertness. Chalk full of caffeine's cousin, mateine, this tea will help you to really feel as though you can hit the ground running again in the office. Mateine is very similar to caffeine in helping you to wake up and keeping you going, but is much gentler in the aftermath and doesn't leave you feeling the crash after. In the video below, you will hear Aubrey talking about this and when she references caffeine, she is actually talking about mateine that I have mentioned here! 
Another tea that I recommend for taking the edge off those back to the office blues is our
Hot Cinnamon Spice
. This is by far our most popular tea and loved by nearly every person who tries it. The caffeinated version is a black tea that is highlighted with clove, orange peel, and three different types of cinnamon (Did you even know there were different types of cinnamon?!). It is spicy, yet sweet at the same time, and when I am asked about the flavor profile to this, I always ask customers if they have had Big Red gum. It tastes very similar to this and has no calories or sugars in it! The other thing we regularly hear from
Hot Cinnamon Spice
lovers about this tea is "It's like Christmas in a cup!" which is absolutely accurate. That being said, when you are feeling a little down about being back to work in the office, what better way to bring up your spirits than with a little taste of Christmas! The other perk to this tea is we also have a
Decaffeinated Hot Cinnamon Spice
and a
Caffeine Free Hot Cinnamon Spice
, making it a tea you can enjoy all day long without fear of that pesky caffeine crash later on. This is another product that I recommend sharing with your desk mates as, like I said, it is loved by everyone, and this is a great way to welcome them back to the office with you. 
I have written a
blog
about drinking tea in your workspace in the past, which I will link
here
. This was written prior to the pandemic but still offers a few more suggestions from our team on how to enjoy our teas as you make your way back into the office. If you have found successful tea rituals that you utilize in your workspace, please drop a comment here! We love to hear from you and I do update the blogs to reflect any suggestions that we receive. I hope that you all have a wonderful day and a safe and smooth transition back to work. Happy sipping! - Kaytea :)