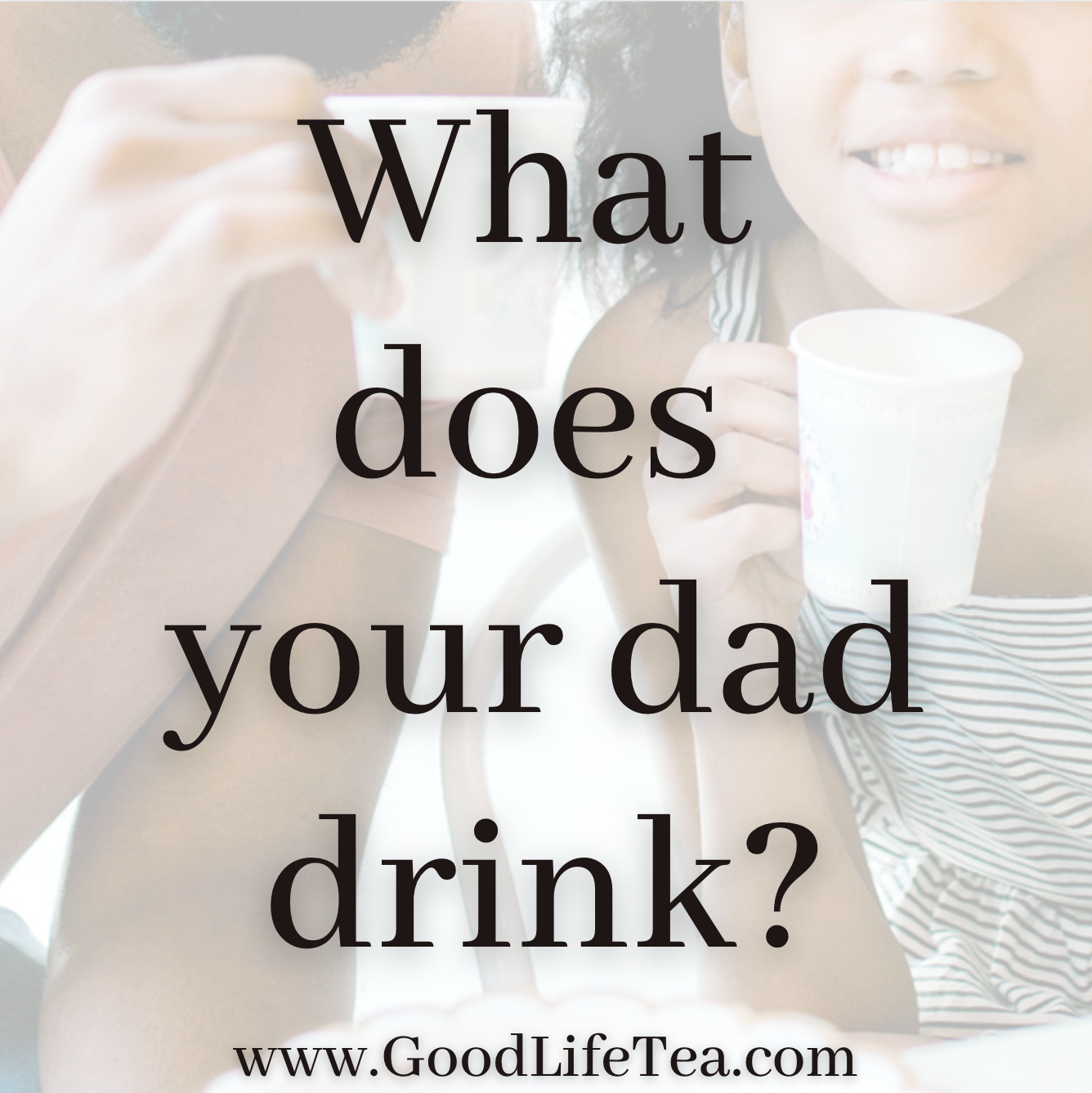 Good morning, tea friends! We hope that you were able to get out and enjoy the absolutely beautiful weekend that we were blessed to have and have had a productive start to the week. We are coming to you today with one question, "What does your dad drink?". I get it. That's kind of a peculiar question but "HELLO! It's Father's Day this weekend". Don't worry, I forgot too.
At the tea shop we were all like "Shoot, it's Father's Day this weekend." and we got to thinking, what did our dad's drink?
To start, I will say that my dad wasn't much of a tea guy before I began working at Good Life Tea. He may have a sip of the iced tea that my beautiful mother keeps in the Mist pitcher in our fridge, and he would never turn down a "Long Island Iced Tea" from his best friend, but other than that, he just wasn't a "tea guy". But not very long ago, that all changed. My father wanted to try every tea Good Life Tea carried. He became focused on tasting all the tisanes and he wanted to know, immediately, if we got a new black in stock.  Beyond that, he often asked what was the most popular green tea selling in the shop. So what's my dad's favorite right now you ask? It turns out to be 
Roasted Yerba Mate.
  Like father, like daughter, right?
You all know that I absolutely love our
Roasted Yerba Mate
and I turned my dad on to it too! He loves that it starts his morning well, but doesn't leave him with a crash in the afternoon. The other favorite of my new "tea aficionado" is our
Chinese Silver Needles
. My father loves the light, yet crisp, nature of this tea. While our
Mate
is 100% his favorite, he often chooses to substitute this tea on the weekends, as it is a bit lighter. 
Next up, I asked Geena what her dad preferred in his teacup.  She didn't hesitate in the least. and replied that Mr. Massaro prefers our
Ice Wine
, our
Assam
, or our
Keemun Panda
, depending on the time of day, of course. I highly recommend each of the above. They are all delightful and you can read more on each by clicking on them!
Lastly, I asked Susan which tea her dad preferred. She kindly responded, "Katie, with all due respect to my father, he couldn't spell tea". Susan's father was a busy doctor and coffee provided him the caffeine to keep him going.  What we would like to highlight here though is, maybe, your dad doesn't drink tea now, but he should! Come in today and let us help you pick the perfect tea for the dad in your life. Let us know what his flavor profile is and we will help you pick the perfect tea for him!
I hope you all have a wonderful week!  Sip on! - Kaytea :)