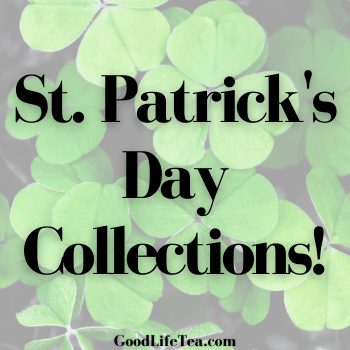 G'day lads and lassies! How are you all on this fine February morning? While yes, it is still just February, let's not forget that the luckiest month is right around the corner from us - March! And what makes March the luckiest month of the year, you ask? Why, of course, that St. Patrick's Day is March 17th! I have a feeling this is going to be a lucky month for all of us! 
To celebrate such an occasion, we at Good Life Tea have curated 3 specialty St. Patrick's Day Collections for you all! They are green. They are great. They are going to make your St. Patrick's Day! Below you will find descriptions of each!
We began with an obvious collection. We created the
"Going Green - The Favorites!"
set. This set was inspired by the love for it's contents; three of our most popular green teas. When someone comes into our shop, both online or in person, looking for green tea, they most often pick one of these teas. We've included 2 ounces of our most popular green tea (of course), our
Kyoto Cherry Rose
. I've included a video review of this below! It is an organic Sencha style base green tea that is highlighted with light cherry notes and rose petals, which give it it's undeniable floral tones. 
With the
Kyoto Cherry Rose
, we then included 2 ounces of our
Citron Green
tea. Our
Citron Green
tea has only received reviews of 5-stars! It is again, a base organic green tea that is then highlighted with lemon and citrus notes that are almost sweet in nature. While I am not typically partial to green teas, myself, I personally love
Citron Green
! It is not grassy or vegetal like many expect from green tea; rather it is light, refreshing, and delightful. Lastly, to finish off this collection, we decided to include an ounce of our
Jasmine Dragon Pearl
tea. This beautiful tea derives its name from the little "pearls" that it is rolled into. To the pleasure of the drinker, these pearls will soon open up as you steep your tea, releasing natural green tea flavors along with delicate jasmine notes. Go green today with this set and let these teas quickly become some of your favorites! 
Our next collection has been inspired by the peace of entering the shade on a sunny day. Imagine the sense of serenity felt sitting in the shade of a tree in the Irish countryside as you admire the sunshine catching the side of the rolling hills. This is what we envision for you as you sip either of the teas we have included in our
"To Shade or Not to Shade"
set. This set begins with 2 ounces of our
Japanese Sencha
green tea. Fittingly for this set,
Japanese Sencha
is grown in the shade of the foothills of Mount Fuji. These abnormal growth conditions allow for the tea leaves to develop more and more chlorophyll which then reveals itself in the grassy, vegetal notes that so many green tea drinkers are searching for. Atop the green tea base and verdant flavors you will also taste subtle citrus and toasted components. Next, in this set, we've included an ounce of our
Gyokuro
green tea. This tea again is peculiar in it's growth, in that while still in infancy, it is grown in the sun, and then switched to dark shade to increase chlorophyll production. You will undoubtedly notice this in the dark green color that is manifested, along with a sweet factor! This tea is traditionally enjoyed by Buddhist monks, so along with appreciating the grassy flavors, perhaps you will find some inner peace and tranquility as well. 
For our last St. Patrick's Day Collection we thought it would be fun to help you all settle the age old argument, "Which is better English or Irish breakfast tea?". The citizen of the United Kingdom have disagreed for generations over who brews better breakfast tea and we are here to remedy that controversy. In the
"Irish vs. English - Preference anyone?"
set, you will find two ounces of our
Irish Breakfast tea
, along with two ounces of our
English Breakfast tea
. Both flavor profiles are undoubtedly strong and intended to help you wake up in the morning. While in the Irish brew you will taste more dark and malted tones, the English is smooth and firm in its black tea nature. I don't want to delve too much deeper into these as we will have another blog post coming up for you to do so! In that we will discuss, more so in detail, the differences between these two teas in order to further help you decide with one you are inclined to. Stay tuned! 
I am so pleased to bring these collections to you and announce them! We hope that you love them just as much as we do and that they bring a little luck o' the Irish into your home! Stay warm, safe, and lucky, leprechauns! - Kaytea :)