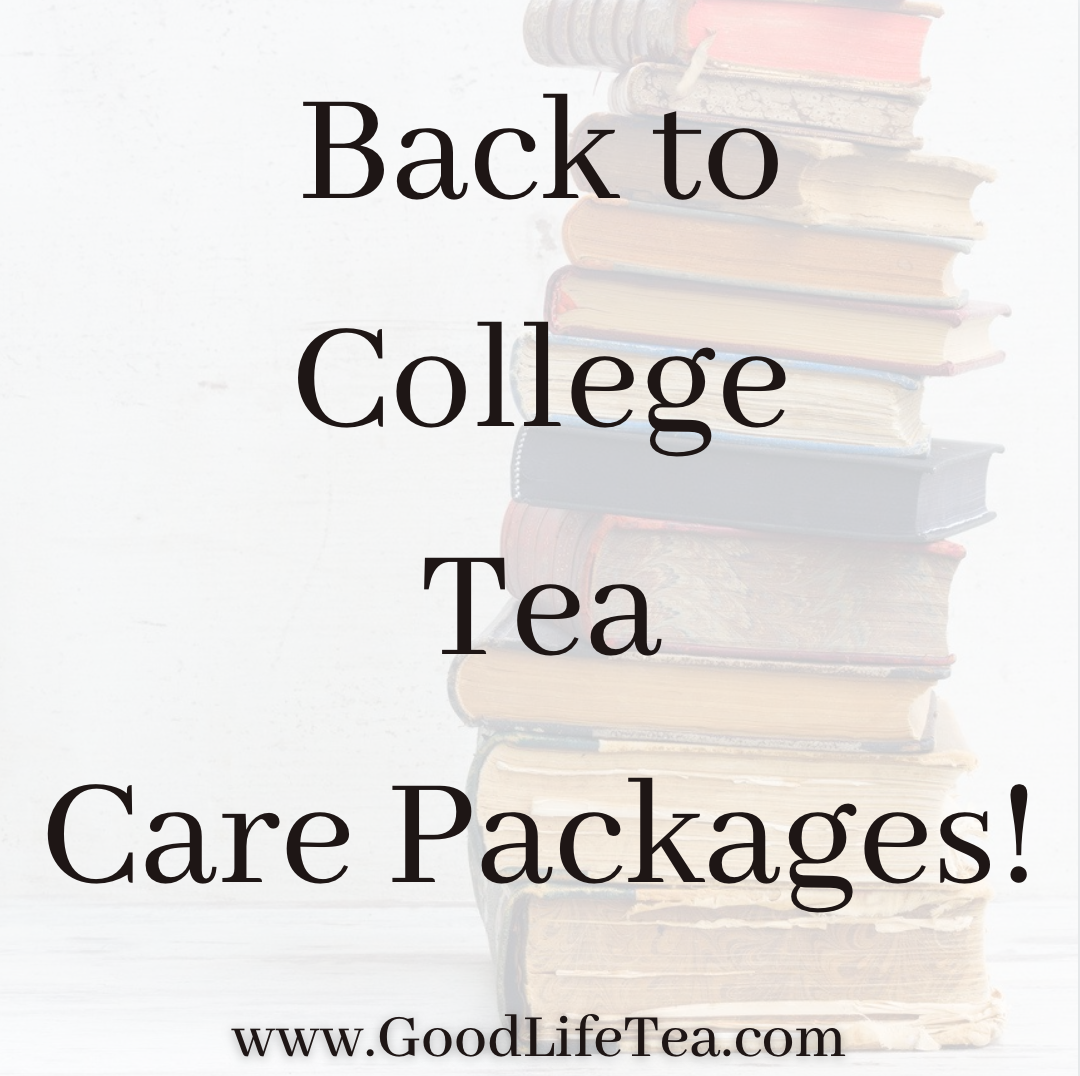 Good morning, tea friends! Are you one of our college student customers? Do you know a college aged student that is heading back to campus? As we are already half way through August this week, and as summer vacations come to a close, something we have noticed is that our tea sipping scholars have already started to head back to their respective universities and institutes!
We are going to miss you so much while you're away but don't worry, we can ship you whatever you want or need! Similarly, if you are like us and missing a college student, why not let them know by sending them a little tea care package to help them start off the new school year? In this blog post, I will cover some of our teas that are most loved by college students as well as a few of our tea ware pieces that we highly recommend for the dorm lifestyle! Check it out below!
One of our teas that routinely wins "Favorite for 20-somethings" is our
Blue Eyes
tisane tea. We think that this is continuously a front-runner for this age group as it doesn't incorporate actual tea as an ingredient. Sometimes tea newbies simply think that they don't like the flavor of tea and that keeps them away. This tea, instead, like all tisanes, is comprised of herbal and fruit components. In this delicious blend you will find 
hibiscus petals, rosehip chips, dried apple pieces, dried sweet orange peel, cornflower petals, and natural flavors. The natural flavors here are caramel that complement the fruity notes beautifully. We the love how the creamy caramel balances out the tart notes from the fruits and makes this almost dessert like, and guilt-free too! Named after the original blue eyed beau himself, Frank Sinatra, this tea will have you "flying to the moon" with love but is also caffeine free as well, so it won't have our students staying up too late! 
Another tea loved by college students proves my personal favorite, our
Roasted Yerba Mate
. While I just recommended
Blue Eyes
for its caffeine free aspect, this tea goes to the other end of the spectrum and is instead high in caffeine's closely related cousin, mateine (one different bond chemical bond with the same energy boosting properties). We all know that sometimes in college you just have to pull that all nighter in order to finish a paper or feel like you are really ready for the upcoming test. Should this be the case, usually the next day is a bit of a doozy and we find it hard to keep our eyes open or our focus on anything at all. This is where our
Roasted Yerba Mate
helps. This tea hails from Brazil, where it is traditionally enjoyed by the gauchos in efforts to help them stay awake and alert while herding. It is an almost coffee like flavor, that because of it's mateine component, helps drinkers to stay awake, engaged, and focused on the tasks at hand. With caffeine, you know to expect a bit of a crash afterwards. Another reason I love our Roasted Yerba Mate and mateine, is you don't have the crash afterwards. I, personally, highly recommend this tea for college students. It has helped me with studying, working in the real world, and so much more! 
Now that you know a couple of our recommendations as far as teas for college students, lets talk about a few of our tea ware pieces that would suit the college and dormitory lifestyle well. 
First off, for the students that like to make a pot for themselves regularly, why not treat them with one of our
Stump Teapots
. Coming in 11 beautifully bright colors, this adorable personal teapot holds 18 ounces of your favorite tea and is equipped with a little infuser basket already right inside! We love this teapot because it makes just enough for one person to enjoy while they study at their desk and the already included infuser allows you to try different types of tea all the time. What makes this teapot even more fun to give, you ask? We also have matching
teacups
and
dishes
to go along with it! Perhaps start by sending them the teapot, then in a few months during finals week, send a set of teacups or dishes so that they can share with their friends while they power through! 
Another great piece of tea ware for the pupil in your life proves our
Mennä Travel Tea Mug
. We really love this travel mug for anyone on the go, and as we've discussed, college students are always either headed to class, on their way to the library, or just on to the next thing. This mug allows them to bring their loose leaf tea with them wherever they may be headed, as well as keeps it hot for up to 8 hours. I love this mug because, just like the
Stump Teapot
, the infuser is built right in. To use it involves just 3 easy steps:
1. Fill the infuser basket with your favorite premium loose leaf tea.
2. Fill your travel mug with water (hot or cold both work) and attach the top.
3. After the appropriate steeping time (don't worry, we list this time on each of our teas), twist the gray ring on your travel mug to commence the steeping of your tea. 
Yes, that's it! Wah-lah! You are ready to enjoy your tea wherever you go while you further your education! 
If you have a college student in your life, or you, yourself are a pupil on your way back to the classroom, try one of the above suggestions. Better yet, if you already have a tea that you love for school, or a piece of tea ware that you find to be vital, drop a comment! Share the knowledge with our other student sippers! We wish you the best with the upcoming school year and look forward to sipping with you whilst you study! - Kaytea :) 
P.S. You may have heard, we have starting a new program which will feature 6 teas each month to be on special! To launch this month, we are featuring 20% off on each of the following 5 teas! Your discount will be automatically applied at checkout! 👍 Don't wait on this because this deal only lasts until the end of August or while supplies last!