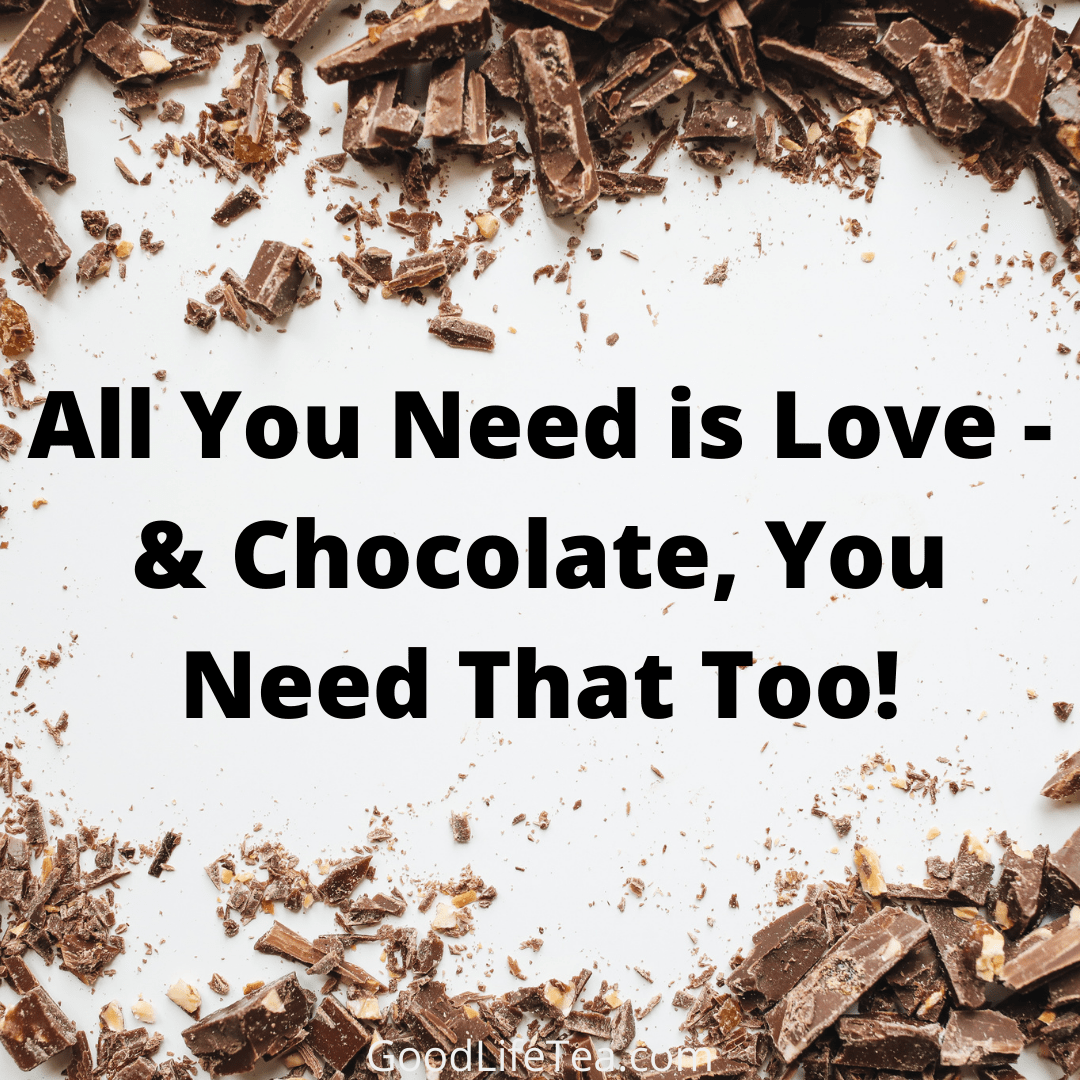 Good morning, tea friends! I hope that you all had a wonderful weekend and have had a productive beginning to your week. I'm not sure about you all, and as some of you already know, I have quite the sweet tooth. When someone asks "Are you a savory or a sweet type of person?", I may answer that I am savory, but I'm in denial, and am definitely more so sweet. I am the target consumer that marketers are aiming for as they place candy in the checkout aisles at Wegmans. I eat ice cream at all hours, and shamelessly. I was abnormally elated when my 6 year old neighbor offered to share her Halloween candy. And lastly, as I write to you all now, I am currently enjoying caramel popcorn for breakfast, that I was dreaming of all last night.
One decadence that I am especially fond of proves the timeless favorite, chocolate.
For those that can relate to this, or have other sweet indulgences of their own (please share!), we at Good Life Tea, are here to help and add to your confection conglomerate. 
Craving an after dinner delight, but trying to avoid all the calories that come along with it? My favorite solution to this is a cup of our
Belgian Chocolate
rooibos tea. I love this as rooibos teas are naturally caffeine free which makes them the perfect before bed treat. Hailing from South Africa, this red tea is highlighted with the luxurious notes of chocolates from Belgium (known for their superior chocolate products). Furthermore, rooibos teas are known for their health benefits and the slew of vitamins that they provide. So not only are you crushing your cacao craving, you are also giving your body a little boost for this upcoming, often times, sick-ridden season. 
Another guilty pleasure of mine from the sweets department to which never disappoints; Girl Scout Cookies, specifically the "Thin Mints". What makes this a tough itch to scratch proves that Girl Scout Cookie season only comes once a year! Fear not! Here are Good Life Tea, we aim to put these worries to rest and we have our
Chocolate Mint
tea, which we regularly hear tastes exactly like the coveted Thin Mints. Do you enjoy your Girl Scout cookies after dinner and before bed like me? Again, if you are worried about caffeine, we have this flavor in our
Chocolate Mint Rooibos Tea
as well! 
The last tea that I will add here if you are searching to quench your thirst for something with chocolate is our
Chocolate Truffle
tea. This absolutely delectable tea is part of our Oolong collection. Oolong teas are a cross between green and black teas. The tea leaves are partially oxidized (black tea leaves are fully oxidized, while green tea leaves are barely, if at all, oxidized). You will also notice, that Oolong tea leaves are traditionally rolled, giving them a distinct and different appearance. Check out this
blog post
to learn more!
Our
Chocolate Truffle Oolong Tea
 is a customer favorite as, again, it is much lower in calories than traditional desserts, while still satisfying the sweet tooth! This tea is
mostly
organic as it does have trace amounts of dairy and sugar in it. This is due to actual chocolate bit, both milk and white being present! I personally love this tea in the morning as an alternative to hot chocolate (again, cutting calories!) and it's caffeine content gives me just the boost I need! 
Are you now creeping toward the candy jar? Stop right there! Brew yourself a cup of some chocolate-y goodness and let us know if we have shown you the light or, better yet, brought you to the dark (chocolate) side! Enjoy your weekend! - Kaytea :) 
P.S. Check out this previous
blog post
to learn about some of our teas that we like to pair with actual chocolates! 
P.S.S. Don't forget, I'll be here Sunday from 11AM-4PM for all your last minute holiday shopping!