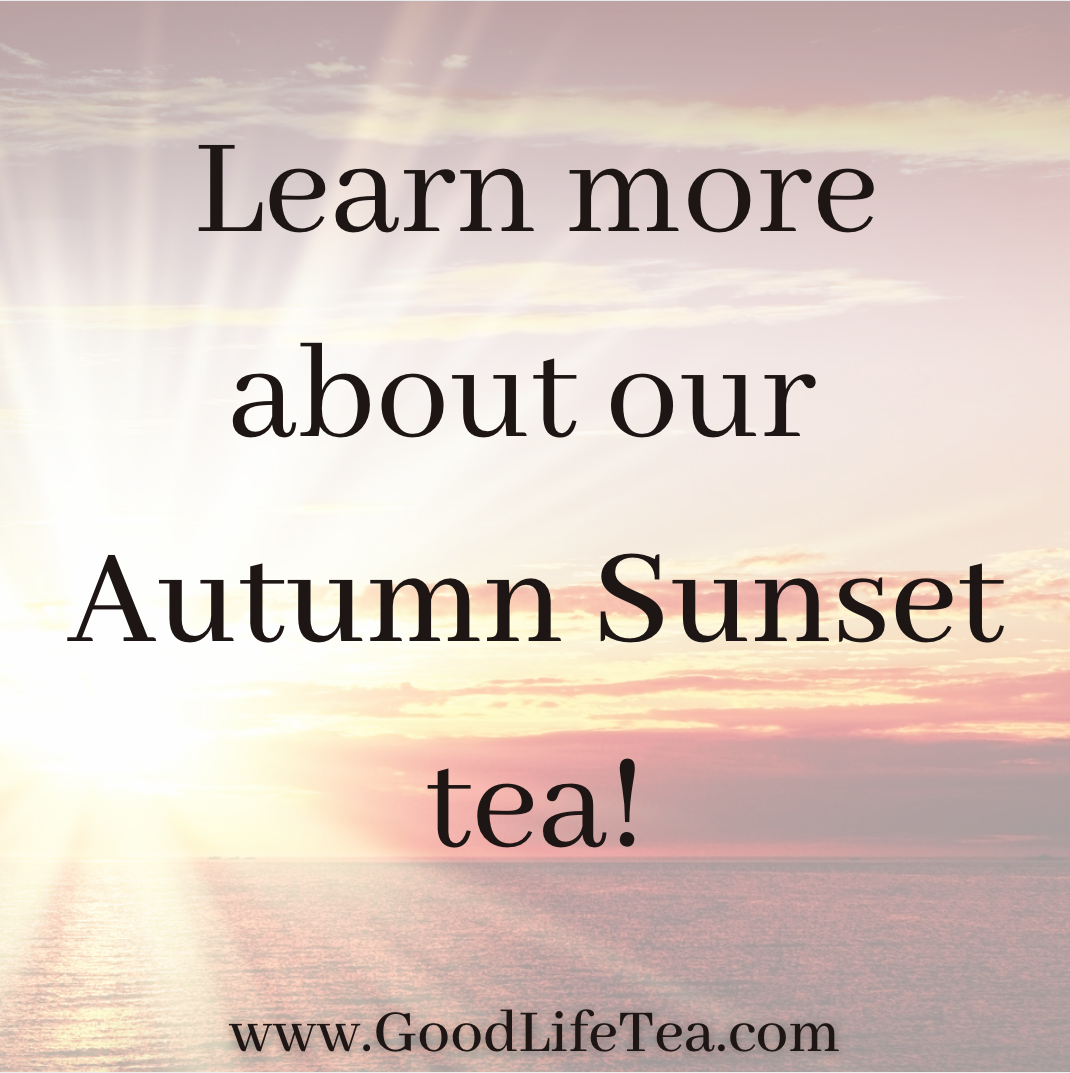 Good morning, tea lovers! We hope that you all are having a lovely week and I come to you this morning to talk about one of our most loved tisane blends - our Autumn Sunset tea. Now, calm down, Charlie Brown! No one is saying that summer is over or that we are encouraging the autumn season to hurry up. The name of this tea simply is attributed to the beauty that is embodied in a warm autumn evening sunset, and how the flavors that you will find in this tea may remind you of how your breathe can be taken away as you gaze upon one of these scenes right before nightfall. 
Autumn Sunset
is a tea that comes up often among us at the tea shop as it is the favorite of our marvelous Susan! Susan loves this tea for so many reasons and she wouldn't be shy to tell you about it, should you ask! It is completely caffeine free and in it you will find the following; 
apple pieces, raspberry leaves, lemon balm, rose hips, peppermint leaves, hibiscus, natural passionfruit flavor, cranberries, safflower, and blue cornflowers. All of these combine to form a beautiful blend that is soft, fruity, and refreshing.
As you can see, this is a colorful tea to admire. The blue cornflowers add just the right amount of sapphire tone that remind me of the blue waters of Canandaigua Lake under a sunset. The raspberry and peppermint leaves invoke relaxation and are intended to help soothe an upset stomach while the lemon balm eases anxieties. If you are feeling a cold coming on or if you are deficient in vitamin C, the rose hips, hibiscus, and safflower portions of this tea can help as they are full of this necessary nutrient and all thought to help in lowering blood pressure. While apples, cranberries, and passionfruit all harbor their own secondary reasons for inclusion as well, these ingredients are mostly included to enhance flavors and are much of what you will taste initially. Behind this fruity and welcoming greeting, you will feel the minty refreshment from the peppermint on your exhale. This is a beautiful tea to sip all day long, due to the caffeine free nature, but I personally most enjoy it at the end of the day. I like to taste the initial sweetness and reflect upon the high and sweet points of my day. When I exhale and feel the coolness of the peppermint, I then like to think of the new day that is just ahead and all of the opportunity that is available. It is a calming yet exhilarating way to end the day in celebration for what is to come tomorrow. 
When making this tea, which is both delicious hot and cold, we have a few suggestions as well. If you enjoy it hot, like myself, you will want to steep it at 212º F for about 5 minutes to ensure that all of the flavors are present to their fullest potential. Conversely, if you are like Susan, and prefer this blend chilled or over ice, then we recommend making it in our
Mist pitcher
. Our
Mist pitcher
is the absolute easiest way possible to make iced tea and we promise that it will come out perfect every time. All you need to do is cover the bottom of the pitcher with the tea of your choice, in this case Autumn Sunset, fill the rest with room temperature water, let it sit in your refrigerator for 4-6 hours, and boom! You now have a full pitcher of iced tea to be enjoyed throughout the day. For anymore questions on this, please reference this previous
blog post
written on the
Mist pitcher
and how easy it is to use! 
As I've said, this is our Susan's most favorite tea and we never question her as to why, for it is truly delicious. I highly recommend trying this blend and welcoming the autumn season with it today! Stay cool and happy sipping, friends! - Kaytea :)