Good morning, tea sippers! As November is well underway, many of you are undoubtedly preparing and getting excited for your Thanksgiving celebrations. Thanksgiving is such a wonderful holiday in so many homes that encourages us to express gratitude for all that we have, spend time with those that mean the most to us, break bread with them, and in our case, sip tea! 
In getting ready for any of these get-togethers, you may be trying to decide what to bring along with you as your dish to pass. While bringing the stuffing, a pie, or some kind of dessert is certainly lovely and appreciated, why not go a little outside the box this year and bring along your favorite tea to share with some of your favorite people?! The temperatures have been beautiful lately, but cooler temperatures are on their way, so I'm sure that a warm drink would be welcomed and praised. In this blog post, I'll be detailing a couple of our teas that we recommend for your Thanksgiving get together! If you have any recommendations of your own, don't forget to let us know!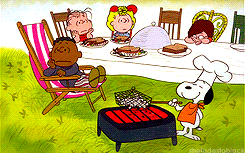 Let's start with our most popular tea, our
Hot Cinnamon Spice
. This tea is phenomenal and continues year after year to be our most popular for a reason. It is a tea comprised of a base black tea, that is layered with 3 different types of cinnamon, clove, and highlighted with smoldering pieces of orange peel. It reminds one of the flavors of Fireball or Big Red gum. It is spicy, yet sweet, all at the same time. We sample this tea almost everyday here at the tea shop and regularly hear reactions like "Wow!" or "I didn't even think I liked tea, but I love this!". If you are looking for a versatile, crowd pleasing tea, and one that is sure to be loved by everyone, our
Hot Cinnamon Spice
is just what you are looking for. A bonus with this tea flavor also proves that if you are similar to my own family, and eat a bit later, we carry this tea in both
Decaf
and
Caffeine Free Rooibos
varieties as well. We don't want to interrupt your tryptophan turkey food coma! 
The next tea I'll mention here that is often loved by all, especially this time of year, is our
Cranberry Apple
tisane fruit tea. Tisane teas are those that encompass dried fruits and herbs in their ingredients. This tea is made up of 
apple pieces, hibiscus petals, rosehip pieces, elderberry pieces, cranberry pieces, and natural flavors that all combine into a delicious fall blend. It is absolutely caffeine free and, like all our teas, can be enjoyed both hot and iced. We love this tea for the autumn season with the apple component and think that the cranberries play nicely with the cranberry sauce that you will be enjoying with dinner! 
One last tea suggestion that we will provide here for your Thanksgiving meals and celebrations is our
Scottish Caramel Pu-erh
black tea. Oftentimes, we hear customers come in that are a bit nervous about Thanksgiving, as they are trying to eat healthy or diet and this meal doesn't exactly fit that plan. A good alternative, to the dessert portion at least, that we offer is our dessert teas - one of our most popular being the
Scottish Caramel Pu-erh
. To help with saving on calories, and still allow you to sooth your sweet toothache, perhaps try bringing this delightful tea as your meal contribution! This black pu-erh tea is full bodied and dark, with a swirl of caramel and almost like toffee flavoring. Don't take it just from us though. Below is a customer review of this tea! Thank you, Charmaine!
Now, when you receive your next call or text saying "What're you bringing to Thanksgiving?", you know how to respond. You can say, "I'm bringing the tea!". Let us know which blend you decide to bless your friends and relatives with and how they like it. If they are from out of town, remind them that we ship and encourage them to check out our website! We can't wait to hear from you. Have a wonderful rest of your week and weekend, friends. Happy sipping! - Kaytea :)
P.S. Remember that the Christkindl Market is back this weekend in Canandaigua! It is a wonderful way to kick off the holiday season with over 300 vendors! For more information, check out the website
here
!