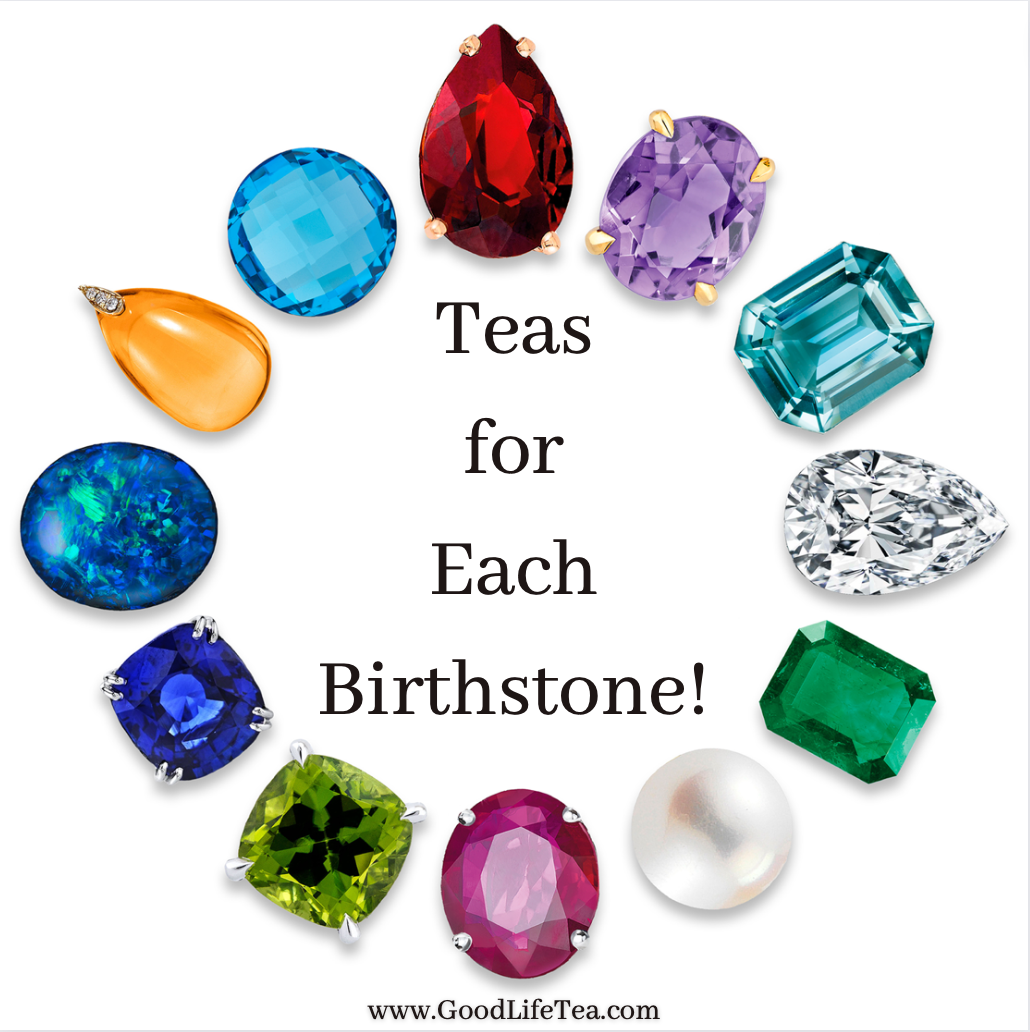 Good morning, tea gems! I come to you hoping that you all had a wonderful weekend and were able to stay warm as it was a little chilly for the season here! I'm not sure about you, but lately I have been having a lot of birthdays to celebrate around me. It seems like every time I turn around I am celebrating another loved ones trip around the sun, and I'm starting to run out of cute and unique gift ideas! That being said, I have been wracking my brain and thought to myself, "Hey, you work at a tea shop! Why not detail a fun, and special, tea for each of the birthstones in your next blog?". Below, I'll be detailing a specific tea to associate with each of the beautiful birthstones, and hopefully helping you out with future, unique, and thoughtful gifts for all of your birthday beauties!
1. January - Garnet
The birthstone for January is the beautiful red, garnet. Due to this, deep beautiful crimson color, the tea we recommend for the January babies proves one of our Rooibos (red) teas. Rooibos teas hail from South Africa and are completely caffeine free. They are a beautiful reddish, orange color to begin with and brew into a gorgeous translucent, brick color that is similar to what you see in a garnet stone. We do have a variety of rooibos teas but one in particular to feature for this birthstone proves our Chocolate Mint rooibos tea. This tea tastes just like the Girl Scout cookies known as Thin Mints, or a York peppermint patty, and is beloved by all who sip it. While the Chocolate Mint does come in a black tea as well, we love our Chocolate Mint rooibos for its caffeine free characteristic. It allows us to drink it into the evening as a dessert treat, without fear of messing with our sleep schedules! 
2. February - Amethyst
Yes, you guessed it, as February's birthstone is the amethyst, I of course, would normally recommend our Amethyst Berry tea. Due to supply chain issues and it's popularity though, we unfortunately are sold out of this decadent tea! Don't worry though, soon as it is back in stock, we will be letting you know! While this tea is unavailable, for those in the February birth month, we recommend another one of our teas that brews into a stunning purple color, our Berry Berry. This multilayered tisane tea perfectly marries flavors of both tart and sweet. It is comprised of the tart flavors of hibiscus and elderberry, that are complemented beautifully by the sweet tones of raisin, and a stunning finish of blueberry. When brewing this tea, we highly recommend serving it in clear glasses as the color, you will find, is one fit only for royalty! 
3. March - Aquamarine 
Aquamarine is the birthstone of March, and is said to have protected sailors of the sea in times past. It also proves to be a beautiful blue color, just as the seas. Because of this stones connection to the waters, we thought no tea better fitting for this birthstone than our C of Tranquillity. Our C of Tranquility is one that we blend personally here, and is intended to invoke the relaxation and peace felt when sitting by or upon the waters. It is made up of chamomile, rosehips, hibiscus, and blueberry - all flavors that, when combined, serve to bring serenity to each sip after a long day. This tea is another one that is caffeine free as well, so can be enjoyed at any hour without fear of being kept up!
4. April - Diamond
Ahhh, April and the diamond. The diamond, as a stone, is well known for its high value, unmatched brilliance, and rich sentimental value. Similar to this, in the tea world, we have our Silver Needles white tea. This tea is known for its purity and radiance. It is a tea that is sought after due to its scarcity and the tenuous process that is involved with harvesting and creating this tea. Silver Needles tea is made up of the earliest bud of white tea that has a very slim harvesting window. It accentuates the beautifully light flavors of white tea and affectionately is referred to as the "champagne of teas". For those looking to spoil a special someone born in the month of April, we recommend gifting them one of our diamond level teas, our Silver Needles white tea. They surely will be swooning all month long.
5. May - Emerald 
The month of May boasts the exquisite emerald as its birthstone, and while due the color of the stone, you may have expected a green tea, that is not what we have chosen for the May progeny. Emeralds are also known to be the favorite stone of the Egyptian queen, Cleopatra. She revered them for their stunning color and regularly used them in her royal adornments. Due to the emerald's ties to ancient Egypt, we recommend blessing those with birthdays in the month of May with some of our Egyptian Delta Nile Chamomile tea. This tea is made up of the tiny golden chamomile flowers that are sun dried in the heat of the desert in Egypt. It is a light and delicate tea that is also known for its sleep inducing effects. It is a component in a variety of our teas, but just as Queen Cleopatra preferred her emeralds to be appreciated for themselves solely, we suggest trying this tea exclusively and appreciating it unencumbered with other flavors this month. 
6. June - Pearl
June has the pleasure of possessing the pearl as its gem of the month. Pearls, historically and mythologically are thought to be the hardened tears from Aphrodite, the Greek goddess of love. They are thought to embody purity and "sweet simplicity". Being represented by the gemstone of the pearl, we thought June, non coincidentally, to be a wonderful month to feature our Jasmine Dragon Pearl green tea. Our Jasmine Dragon Pearl tea is made up of green tea leaves and buds that have been meticulously and labor intensively hand rolled into little balls that will slowly unfurl and release a steady flavor as you steep them. You will notice a subtle floral, jasmine flavor and the medium caffeination allows for this tea to be a beautiful late morning to early afternoon tea. While a string of actual pearls may not be in your price range for the birthday individual this month, our Jasmine Dragon Pearls certainly are a lovely and budget friendly substitute!  
7. July - Ruby
July's birthstone is the gorgeous ruby. Rubies are sought after for their stunning red color and they often signify deep love and passion. Due to the beautiful red coloring, characteristic to these spectacular stones, again, we will be revising or rooibos teas. Because of rooibos teas are all naturally caffeine free, they offer the luxury of being able to be enjoyed at any time. They also offer a whole host of other health benefits that include, but are not limited too, promoting healthy digestion, helping with heart health, alleviating pain, aiding in weight loss efforts, deterring allergies, and much more. The rooibos tea that we have chosen for our ruby donning individuals proves our Caramel Rooibos tea. With just even a quick waft of this tea, you are sure to smell the swirls of caramel that it encompasses. A top the bed of rooibos tea is layered a dessert like decadence of caramel that is the perfect kiss goodnight on a July evening. We highly recommend this tea iced as well, as temperatures in July are known to become quite sweltering.
8. August - Peridot 
The peridot, often referred to as the "evening emerald", is light green in color and is said to induce strength in wearers or those born in the month of August. It is a beautiful stone, and the color reminds me of new growth and new beginnings. A tea that invokes these same feelings and embodies the same color when brewed is our lovely Citron Green tea. This tea is sourced from China and begins with a base green tea. It is then layered with refreshing lemon notes. As someone whose palette typically isn't partial to green teas, I will say, I absolutely adore this tea - especially iced. It is light, refreshing, and a perfect way to start my mornings. It reminds me that each day is a new day and a clean slate. The lemon flavors are cleansing and revitalizing all at the same time. I highly recommend this tea, iced each morning, and the easiest way to ensure you have this ready to go each day is in our Mist tea pitcher! Check out instructions on how to use it right on the product page here. 
9. September - Sapphire
September is my birth month, and I am therefore partial to the birthstone of the sapphire. Sapphires are gorgeous, blue stones that are said to symbolize purity and conjure wisdom. Not surprisingly, the tea we have chosen to accompany the September birthstone is our Blue Sapphire black tea. This is a milder black tea that hails from the hills of Kenya - again, non-coincidentally, where sapphires are mined from, as well. A top the bed of black tea, you will see blue cornflowers. These beautiful petals stand out starkly from the dark black background and add a very slight floral tinge to the flavoring. This is a beautiful tea to watch steep as the blue, sapphire colored cornflowers dance in the infuser or teapot and we highly recommend doing so in a clear container if possible! 
10. October - Opal
Opal, the birthstone for the month of October, is a stunning gemstone that embodies an almost translucent white coloring which picks up lighting from each angle that translates to rainbows throughout the stone. It is said to bring about faithfulness and confidence in those who are born in the month of October or who choose to wear it. One of our white teas that brings about a rainbow of flavors within proves our White Tropics! This white tea incorporates the flavors of pineapple and coconut and when sipping it, I imagine dangling my toes in the translucent waters of somewhere tropical while watching a rainbow form in the distance. If you would like to sip our version of the opal of teas, try some of our White Tropics today! 
11. November - Topaz
Topaz, the birthstone of November, is said to encompass spiritual properties of relaxation and when worn, said to help with release of tension. Two teas of ours that, similarly, help you to ease into the bliss of the end of a hard day include our Gentle Slumber and our Sleep Better teas. Both teas are herbal teas that include ingredients to really help you really relax and breathe. Our Gentle Slumber is made up of chamomile, peppermint, and rooibos - all ingredients that induce a leisurely mood and tranquility. Likewise, our Sleep Better is made up of valerian root, lemon myrtle, verbena, spearmint, chamomile, and lavender. Again, these are all ingredients that help you to release any negative energy or harbored tension. If you decide to give one of these topaz inspired teas a try, let us know how you fare! 
12. December - Turquoise 
Turquoise is an exquisite stone that is thought to bring about good fortune and success. This is something that we wish for all of you, no matter your birth month or birthstone, but being the birthstone for the month of December, we have to assign a tea to complement it. For those born in the month of December, and donning turquoise, we recommend trying our Peaceful Journey Oolong tea. We chose this tea because on your way to your fortune and success, we want for it to be a peaceful journey every step of the way. Our Peaceful Journey tea is made up of a base oolong tea (a cross between a green and a black tea in which the leaves are both wilted and steamed) that is highlighted with hibiscus notes and flowers. It makes for a beautiful blend with light floral notes and invokes a sense of peace for sippers. 
If you drink a tea specifically aligning to your birth month or birthstone already, let us know which it is and why you do so! If you have any other comments or questions on this blog, please leave us a comment below! We absolutely love hearing from you and all of your feedback! Have a wonderful week, friends! Happy sipping! - Kaytea :)
P.S. Have you been drinking any iced teas to help you stay cool lately? If so, which ones?! We want to hear about it! Let us know! Thank you!