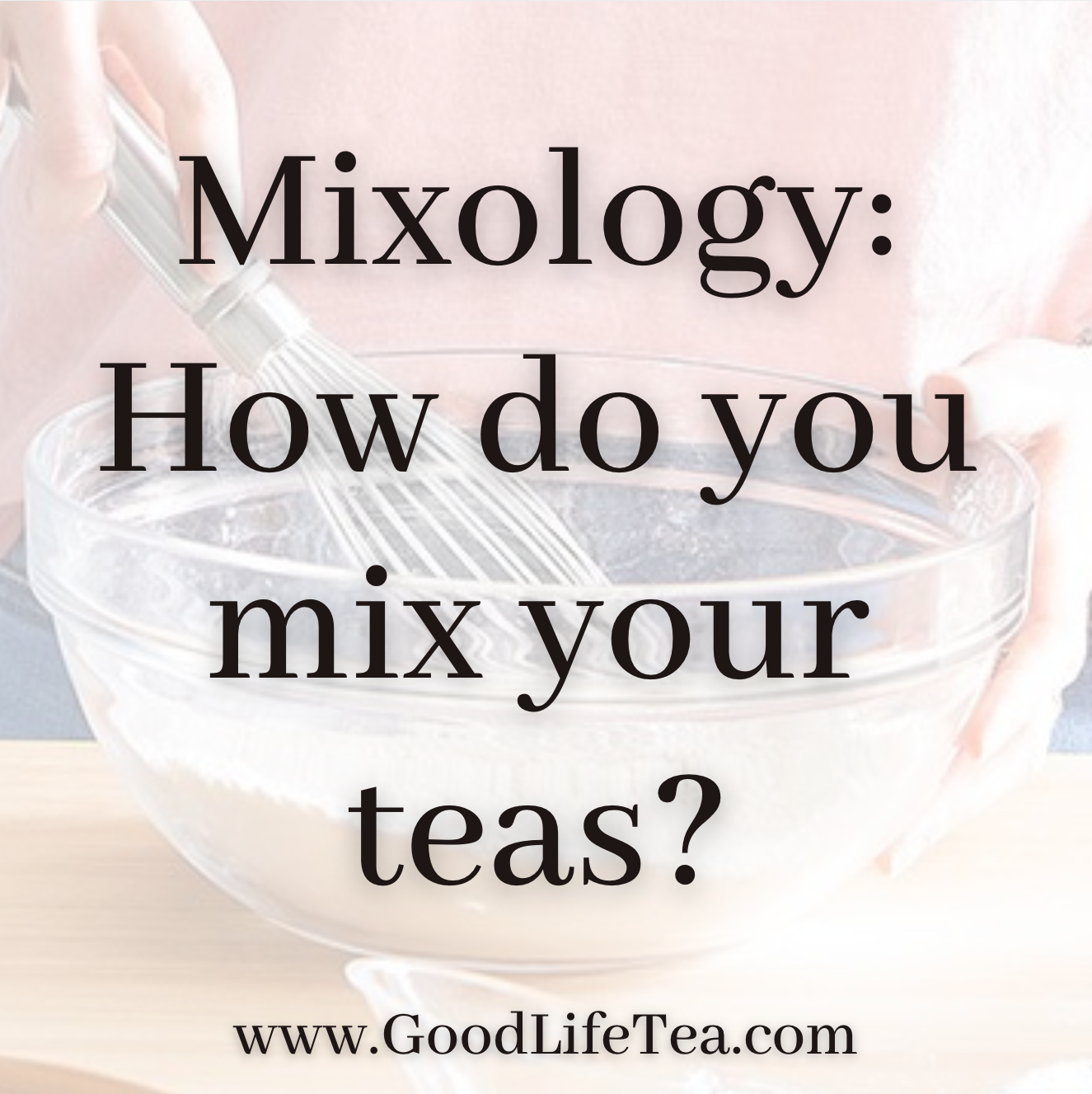 Good morning, teasters! How has your week been? Have you gotten "mixed up" in anything exciting or fun? We certainly hope that you did! In keeping with the "mixed up" theme, this blog post is dedicated to different teas that we mix ourselves for you here, different additives that we regularly hear are added to our teas, but, most importantly, some suggestions that we have heard from you all about combinations of our teas that you already know are good! 
Let's begin with one of the biggest pros of loose leaf tea that we often overlook. Because our luxury teas are not pre-bagged, they have the ability to be mixed with one another. When you come into our store or are perusing our website, amongst the over 120 teas we have, you still might not find exactly what you are looking for. Perhaps you are looking for a mix of your favorite black tea with one of our specific herbal teas. Or rather, maybe you really miss a blend that you used to get at Teavana and unfortunately can't get anymore. Suppose your friend is looking for specific flavor blends that no matter where you look, you can't find. Look no further, tea friends! We are so pleased to be able to fix this little problem for you, and, better yet, we love doing it! Keep reading for just a few of the requested mixes we've had before. 
In my years working here, I have received many requests for different combinations of teas. One in particular that stands out to me, as it has been requested a few times, and was a favorite from Teavana, proves the former "Comfort Wellness Tea" blend. While this specific tea was unique to the Teavana business, when we did a little research on its ingredients, we found it to contain 
ginger, orange peel, chamomile, lemon, verbena, spearmint, rooibos, licorice root, and fennel. 
Good Life Tea does not carry this exact tea but we would suggest that you try combining two of our teas,
Gentle Slumber
and
Sleep Better.
Gentle Slumber
contains chamomile, mint, and rooibos, while
Sleep Better
contains valerian root, lemon myrtle, verbena, spearmint, chamomile, and lavender. While you won't be getting 100% of what was in the Comfort Wellness Tea, you can come quite close! Should you really miss the orange peel or the licorice portion of the tea, we can help here as well! Perhaps add a bit of our
Bright Orange
and a dash of our
Licorice tea
. 
Another surprising mix that has become quite popular, especially with the onset of these heightened temperatures is a mix of our
Pomegranate Lemon
black tea along with our
Angel Falls Mist
tisane tea.  Our
Pomegranate Lemon
alone brews into a reddish color which complements the citrus and strawberry of our
Angel Falls Mist
. This is a very tart combination so be prepared! We often recommend this as an alternative to KoolAid for kids as well. We find that little ones love this blend, iced along with the addition of a few of our
amber sugar crystals
. Imagine having this poolside while you judge a cannonball competition!
One last blend that came to us by the renowned "Hockey Moms" is our famed "Hockey Mom Tea"! This concoction came to us when a lively group of mothers, known for their commitment to cheering on their kids in the hockey rink, ventured into the shop to come up with their own, unique tea. When these rowdy ladies came in, we took their flavor profiles and palettes into consideration and came up with their one-of-a-kind medley that is now purchased in bulk and keeps these moms toasty, satisfied, and cheering, even in the chillest of ice rinks! They chose to mix our
Bella Coola
,
Lemongrass
, and
Canandaigua Chill
teas to come up with this fruity brew affectionately referred to as "Hockey Mom Tea". The tartness is derived from dried apples in our
Canandaigua Chill
and dried orange and pineapple in the
Bella Coola
. This is complemented by the lovely
Lemongrass
as well as clove, cinnamon, rosehips, and hibiscus that is found in the
Canandaigua Chill
. If you are a sports mom of any type, or you would just like to try this completely caffeine free blend, shoot us a message today! You won't regret trying this blend!
Next, let's talk about some teas that we have here regularly, that we also mix in house. One crowd pleaser in particular proves our
Earl Grey with Lavender
. This delicious decadence is comprised of a base of our
Earl Grey Supreme
tea that we mix with our herbal
French Lavender Tea
. The two combined create a sophisticated European flavor, and a very relaxing aroma. The bright purple lavender stands out well against the black tea both in color, and in its distinctive flavor. The bergamot bridges the gap. It's citrus flavor blends the lavender and black tea into a single experience which is widely loved by all. Should you find yourself loving this so much that you are looking to enjoy this into the evening, we offer this blend in a
Decaf Earl Grey with Lavender
as well! 
Another herbal blend that is loved, especially this time of year, by many of our customers never fails to be our
Lakeside Calm
. 
Lakeside Calm
 is a tea that we blended with the hopes that it would invoke the same feelings in you that you feel when you sit at the end of a dock at the conclusion of a tumultuous day. We have blended our hibiscus, lemon, and lavender to help do so, and have found that so many people relish in the deep pink color that this brews to. The color is reminiscent of sailor's delight sunset, and being caffeine free, this tea gracefully rocks you into the evening. As you sip this tea, imagine yourself listening to the soft lapping of waves, as you watch a new family of ducklings swim vigorously behind their mother. 
As mentioned above, we do often hear of the addition of our
amber sugar crystals
to our teas as well. Some other additives that we are familiar with to add to your mixology playbook include lemon, honey, blue agave, maple syrup, and mint. Feel free to experiment! We love when you all come up with fun ideas that we can brag to everyone else about! Should you have any personal mix favorites that you would like to share with the class, please email them to us at info@goodlifetea.com or leave a comment below! I can't wait to hear what you all have come up with and add it to the blog here! Thank you and happy sipping! - Kaytea :) 
P.S. One customer came in yesterday (Shout out to you, Miss Erin Moriarty!) who said this little line to me; "I drink so much tea that I'm basically a tea bag at this point." and I have to tell you, I've never related to something more in my life! 😂 😂😂(Although, I am more of any
infuser
gal!)