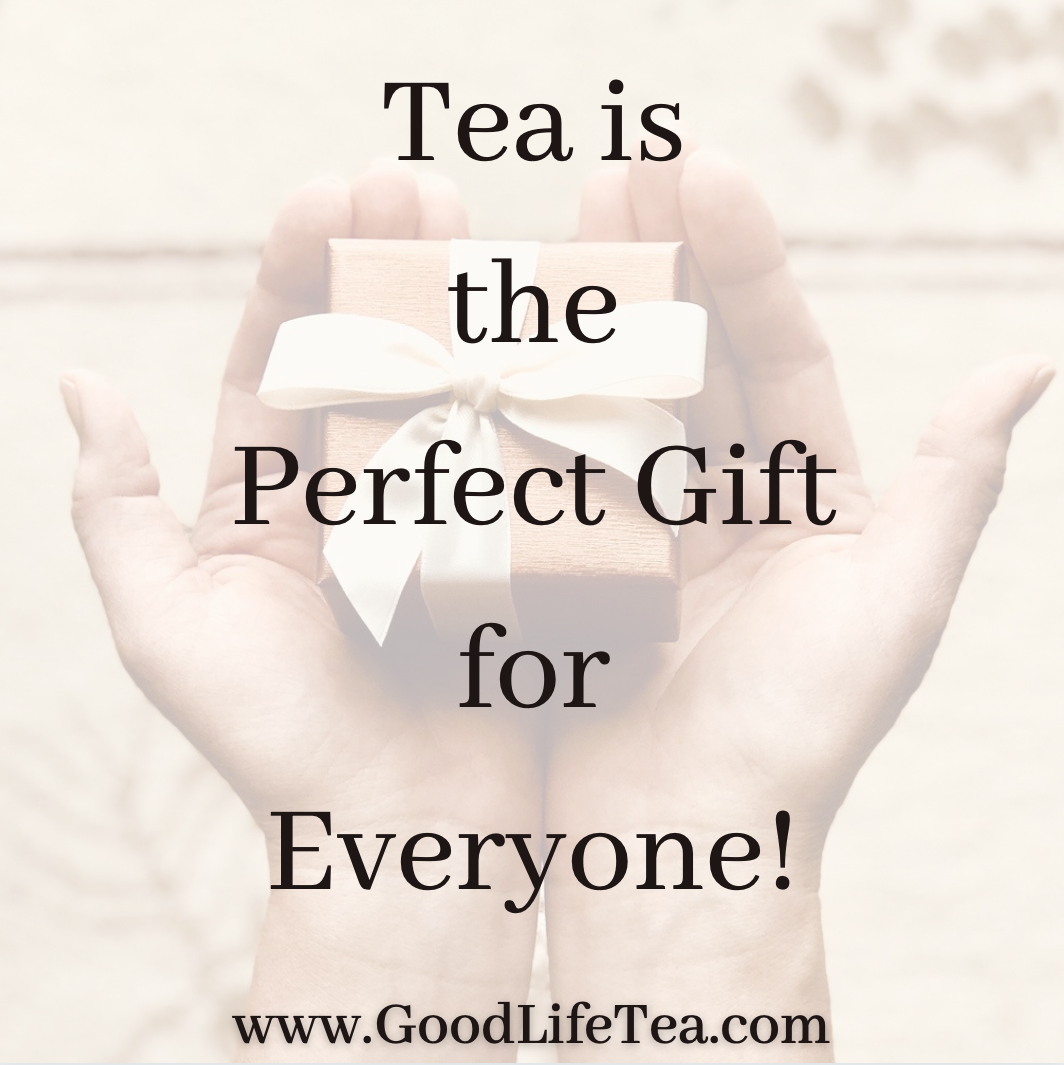 Good morning, tea friends! I hope that your week is going a bit better than mine, as this week has been stressful in the way that I still have a few people lingering on my Christmas list that I just can't seem to find the right gift for. It has been a constant worry for me as we get closer to the 25th and I am searching for those few friends and family that either seem to already have everything, are picky, or just that nothing really seems right. Are you having this problem at all? 
If so, Good Life Tea is here to help! If you have someone that you are struggling to find the perfect gift for, why not gift them some of our delicious tea, or perhaps, some of our beautiful tea ware? In this blog post I'll detail a few reasons for you on why tea is the perfect gift for anyone giving you trouble this year, as well as highlight a few of our most popular teas! 
1. It is affordable. 
We want you to know that we know and are conscientious of our prices, especially at this time of year. We know that you may have a long shopping list and so in order to help you make sure everyone receives the perfect gift we keep the prices of both our tea and tea ware affordable and budget friendly. 
2. Our packaging is pristine. 
When you choose to order our teas or tea ware, part of the process of preparing and shipping it to you is making sure that everything is package in a beautiful and presentable manner. When you, or whomever you are sending it to, receives the package from us, it is complete with free samples, looking luxurious, and comes with a hand written note from one of us personally! **If this is a gift you are sending, there is a spot on the checkout screen where you can let us know!** 
3. It is good for your health!
Tea has been shown to have numerous health benefits including, but not limited too, helping with inflammation, soothing and calming properties, and helping with appetite management. We also have teas that are known to help with sleeping issues including insomnia and restlessness. For any ailments you or someone on your Christmas list may be dealing with, feel free to reach out to us for recommendations! We love to help! What better gift can you give to someone than helping to improve their quality of life?!
3. It is a personal gift. 
With our selection of over 120 different premium loose leaf teas, and our impressive collection of exceptional tea ware we have something to fit the bill of every person on your list's likings. If you know someone whose palette proves partial to peach flavors, we may suggest something like our White Peach tea. Likewise, if you know someone who is always on the go, why not gift them a piece of tea ware that allows them to take their tea with them? Perhaps, our Mennä Travel Mug is the perfect gift for this person. By giving someone a gift that is specifically tailored to their partiality you are showing them that you took the extra time and were specifically thinking of them! 
4. It is practical and a gift that will last all year long! 
Tea is long lasting when stored properly and allows the recipient the opportunity to think of you whenever they make a cup! All of our teas do come in resealable, air tight bags but if you are looking for an addition to your tea gift, a more stylish way to store tea proves in either our beautiful Washi tins, or our small tea containers. We have various different colors and styles so make sure to take a look! 
5. It is a creative gift! 
Realistically how many candles, pairs of socks, or pajamas does one person need? Tea is a gift that many don't think of, but everyone loves to receive! What makes it even better is that it is personalized to the person, as mentioned above. You can also add a mug of their favorite color. These ceramic ones are fabulous and include an infuser and lid with them! If you know that they already have mugs and an infuser, perhaps think about one of our ceramic tea dishes to accompany some of their favorite teas and hold their used infuser. 
6. We've done the work for you. 
If you yourself are a bit of a tea newbie and you don't know where to start in gifting tea to someone else, don't worry, we're the experts and can help. If you know which flavors your friend may like, we can point you in the right direction. Just shoot us an email at info@goodlifetea.com with any questions and we are happy to help! Better yet, we have all of our beautiful holiday gift sets put together that are already targeted toward different palettes and prepackaged with some of our most popular teas. Take a look at each for more information! (Don't forget that these come already beautifully packaged and don't require wrapping - who likes doing that anyways?) 
At this point, I think you know that you should be stopping by our shop or visiting our website to finish up your holiday shopping! Again, if you have any questions on any of our products or teas, please don't hesitate to reach out to us via email at info@goodlifetea.com. I am happy to personally answer any questions and I love sharing my knowledge of tea with you! I hope you all have a wonderful weekend! Stay warm and happy sipping! - Kaytea :) 
P.S. Don't forget, we are open on Sundays from 11AM-4PM now! Come see us and sip with us!