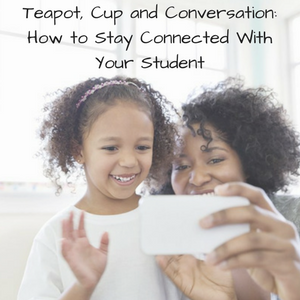 Back to School
So your child's leaving for school. This can be a super exciting time for your child, but tough on you as a parent. First, try not to panic. Whether your student is five minutes away or five states away, they won't forget about you. In fact, many college kids yearn to feel close and connected to their friends and families back home, even if they don't say it.
Tea Time: The Best Time To Connect
Pictured Above: Sean and Ben, students at Harvard and Connecticut College enjoying their "Tea Time"
When I first went off to college I missed my family and friends a lot, and with a busy schedule to manage, staying connected with the people I love became difficult. That's why my mother and I started a routine which we called "Tea Time." Once a week we'd each brew a pot of tea, sit down with our cups, and Facetime. I loved having a few moments of my day to forget about my busy schedule, to just relax and have some tea with the most important woman in my life. It's those moments that kept me grounded and reminded me of my support system, even though they were 400 miles away.
The Perfect Care Package
Want to set up your own "Tea Time" with your student? Send them a care package! A care package is a great way to remind them you care, and trust me when you're a student, nothing is more exciting than a "you have a package" email (I practically ran to the mailroom). So here are some care package ideas to get your own "Tea Time" underway:
Our solid Stump Teapot  and our New Mugs as a set are super cute and their small size make them a perfect fit for any dorm room. With their fun colors and modern designs your student will never want to put them away!
Not sure what tea to send? You can't go wrong with a box of our loose leaf Starter Packs. Their great for either hot or cold tea and will give your student a chance to discover their favorites! You can choose from Fruit, Decaf Black, and Green and each box has four teas to try.
If you know your student has a late night ahead of them why not send them some Matcha for a little pick me up?!
I am so grateful for the designated "Tea Time" my mom and I spent together in college. Not only did it keep me grounded, but it helped me relax and forget those freshman year nerves. I can't stress enough how important it is to a have a reminder of home when home is a little ways away.