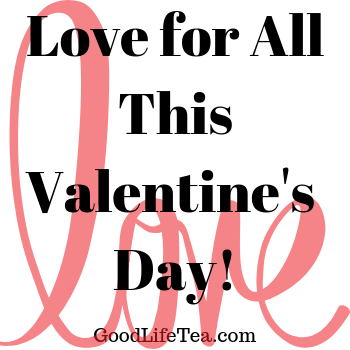 Happy Valentine's Day to you & all of your valentine's as well! Today at Good Life Tea we are really feeling & appreciating the love from all of you! 

Personally, I too, have truly been feeling the love lately. I am so incredibly blessed in so many ways by so much love in my life. I have the love of the wonderful staff here at Good Life. I have the love of a beautiful family & my pup, Jenny, of course. I have fantastic friends that keep me laughing & feeling the love constantly. I am surrounded by the warmth of this incredible community of Canandaigua & furthermore the Finger Lakes. Truly, I just have been reflecting upon the blessing of kindness & love that I am fortunate enough to be surrounded by. 
While this holds true, what I want to talk about in this post, is love for myself; moreover, love for yourself!! As I know that this day is traditionally reserved for showing love to other's, I urge you all to remember to take a moment to love yourself! We are all extraordinary & astonishing beings, & sometimes we forget how awesome we actually are! Self love & self care are important parts of life & often times get overlooked or pushed to the back burner. We so easily forget that in order to show other's love, we have to have a reservoir to give from which starts from loving ourselves. In loving ourselves we begin to radiate & in turn emulate love for others & to give to others. This has been a particularly pertinent idea for me in the new year of 2019 & something I have been trying to be more conscious of each day! I have been trying to do something each day to remind myself, "Hey girl, you are awesome & you are loved."
I wanted to share with you all some of these things & not surprisingly, many of them include tea! 
Each morning, I have started to make a Gratitude List for every letter in the alphabet. For instance, today: 
A: apples with peanut butter 
B: bonfires in the summer 
C: Confetti Cake Ice Cream 
Etc, etc. you get the picture! It reminds me of all the cool things in my life & how truly lucky I am to have them. I will tell you, some letters are harder than others! X always proves tough for me. I'm only so thankful for X-chromosomes & xylophones! But, I digress. The important thing here proves, I like to enjoy a cup of tea whilst doing so. This is where I incorporate my first cup of Roasted Yerba Mate accompanied with our Amber Sugar Crystals. As you guys know, this is my absolute favorite & really gets my day jump started accompanied with my new found gratitude & love for my life! 
Another habit I've been trying to form lately is making sure to take Miss Jenny for a walk each day. This not only induces release of serotonin for myself from exercise (self love), but also is great exercise for her ( puppy love
 :) 
️)! I also get to enjoy our beautiful community! Lately, as we have been taking a bit of longer walks I've really been able to enjoy the beautiful homes of downtown Canandaigua & come to appreciate much of our architecture! 
When I take her on these walks, I too like to make sure I stay hydrated, especially on the longer routes. I often bring a water bottle or travel mug filled with tea! Lately, I have been partial to our Angel Falls Mist. I love this one as it is delectable both hot & cold, & I really enjoy the flavors it embodies. It is a beautiful blend of strawberry & citrus that reminds me of warmer times in our cooler temperatures. 
Lastly, in the evening, I have been taking a few moments to journal. Granted, I will admit, I haven't made it everyday, but on days I have forgotten or skipped, I have missed these moments! In this time I just take a few seconds to jot down thoughts from the day, good things that happened, positive affirmations I may have picked up, or other happy thoughts for me to revisit later. If I am out of the house or away from my journal, I make sure to jot these down in my phone which is a great alternative in our increasingly technological world! 
Part of this ritual for me as well, has become brewing my final cup of tea for the night. It's absolutely soothing & meditative to enjoy the warmth of the tea around my heart as I reflect on my day. Even just the heat in my hands is a precursor to the comfort of being wrapped in my blankets in bed. My favorite tea lately for this time has been Decaf Earl Grey. Earl Grey is such a classic flavor & creamy blend that reminds me of simpler times. It is so reminiscent of a sweet goodnight kiss to me. 
I hope you all get a chance to practice some self love today! More so, I hope all of your days are filled with love in all forms! Let me know any other suggestions you have for all of us for self care & love! Happy Valentine's Day, my friends! My love to you all!
Below are the teas mentioned in this post!