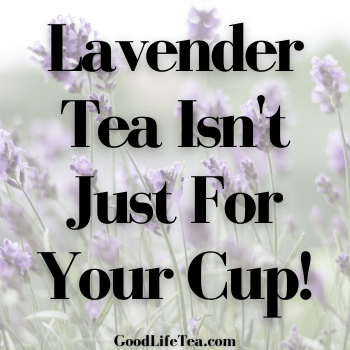 Good morning, tea friends! Today we come to you with the idea that some of our teas aren't just for your cup! 
Yes, you read that right! We have recently been exploring the idea of using our teas for more than just drinking. Of course, sipping is our favorite, but the world of tea is your oyster and there are so many ways to explore and enjoy it! 
What we mean, for the purpose of this blog post is, we think you should use some of our
Lavender tea
to make lavender sachets for your drawers or the drawers of those you love (hint, hint... the holidays are right around the corner and these make a great gift!)! What is a sachet, you ask? A sachet is simply a small, thin fabric comprised, scented bag that is placed in drawers or closets with clothing (such as socks or undergarments) to help keep them smelling pleasant and fresh. They are super easy to make, lovely to have and/or receive as a gift, and to your luck, we have the lavender necessary to make them right here!
Lavender is chosen to go into these darling little pouches for a whole host of reasons, foremost being, for its delicate and delightful, floral scent. The odor is pleasant and refreshing. It is also known to induce feelings of relaxation or sleepiness. Thus, we have heard of some even throwing these little pouches into their pillow cases! In addition to the lovely smell, lavender is known for its ability to keep insects away, especially moths. They are used regularly as a natural alternative to mothballs in drawers in closets, as well! 
If you are wondering to yourself, "That's wonderful that you have the lavender, but Kaytea, where do I get these cute, little pouches?", don't worry, I wanted to make sure I provided that information as well. I've included a few different sites below that offer these adorable bags in a variety of colors! 
In choosing which links to include here I chose places that, most oftentimes, have in person stores as well, so that if this proves to be your preference, you can go right to the store to purchase them. I also tried to include options that offered different colors and different sizes (whatever size you choose to purchase will help you to figure out how much lavender tea to order). These are just a few options as well, I am sure you can find these cute pouches at your local Dollar Tree or Dollar General and many other places. 
The last thing I would like to mention in this post proves that in making these sachets, you are not limited to using only our lavender herbal tea within. I am, of course, a bit biased, but I am partial to the scents of many of our teas. Personally, I absolutely love the smell of our Lakeside Calm. It is relaxing, refreshing, and calming. Numerous customers repeatedly tell us that they love the pungent punch of our Last Mango in Paris. While I may not choose this one to keep with my clothes or in my pillowcase, I think it would be a nice, natural car air freshener which is another great option for use! Should you know that you love the smell of one of our teas, I encourage you to try making a sachet with it, then let us know what you think! I would love to hear your comments and responses! Let us know, also, if you choose to make these for a stocking stuffer, as a party favor, or holiday gift of any sort. Have a wonderful start to your day and happy sipping! - Kaytea :) 
P.S. Over the next few weeks, as we hear about holiday happenings around us, we'll make sure to share them with you! That being said, as Thanksgiving approaches, so does another wonderful day known as Black Friday. As an alternative to this widely known day, many of the Canandaigua businesses have decided to partake in a day known as Plaid Day 2021! If you choose to shop at many of the local Main Street businesses and find yourself to be wearing plaid, you will be privy to some pretty sweet deals! Get your best plaid ready!