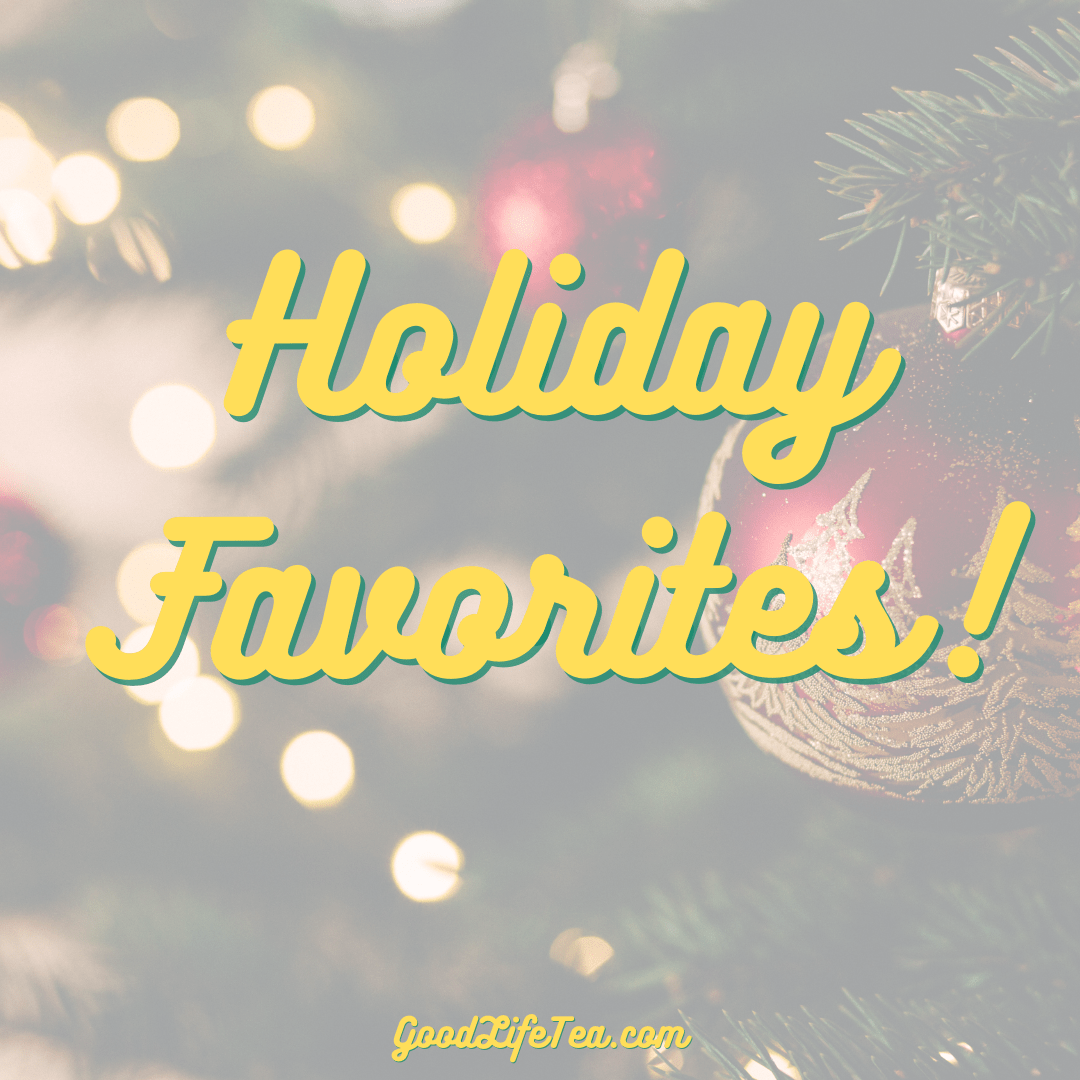 Good morning, tea friends! As I promised you all on Tuesday, today I'll be detailing the first of our just announced
Holiday Collections
; our
Holiday Favorites
! 
Because of the turmoil and uncertainty of this year, we know that shopping for your loved ones might be tumultuous and overwhelming. This could all be due to the current pandemic, expected shipping delays, increasing prices, your own trials and tribulations, etc, etc. We are here to help! We have curated a variety of different
collections
to appeal to all of the people on your list that may be giving you trouble. 
In creating these special
holiday collections
for you, we wanted to make sure that we included a package that encompassed our most popular teas, as we know you love them! To do this, we've designed this special
Holiday Favorites
gift set that includes a whopping 8 total ounces of our teas. In this beautifully packaged box, you will find 4 ounces of our most popular tea,
Hot Cinnamon Spice
, as well as, 4 ounces of our most popular green tea, our
Kyoto Cherry Rose
.  
  
Let's start with our beloved Hot Cinnamon Spice. Our Hot Cinnamon Spice is a black tea that is highlighted with citrus and cinnamon. It is our most popular tea, by far, for a reason! This unique and delectable blend appeals to all! It features a combination of 3 different types of cinnamon, some smoldering orange pieces, and clove. When we ask customers to describe the flavors and taste, we regularly hear "Fireball", "Big Red Gum", and "It tastes like Christmas, if that makes sense?". How much more perfect could it be for a holiday set?! Don't take it just from me though. Below, watch our friend Aubrey delve a little deeper into this amazing tea. (While 4 ounces is a good amount of tea, with this one, it might not last as long as you think because of how much you'll be drinking it!) 
Alongside our Hot Cinnamon Spice black tea, we wanted to make sure that we included the most popular tea from our other end of the tea spectrum, our Kyoto Cherry Rose green tea. We find that our Kyoto Cherry Rose proves to be a frontrunner in the green tea department as it incorporates both fruity notes and subtle floral flavors. This heavenly blend is built upon a base of organic sencha-style green tea. We tend to steer toward this exquisite tea when someone isn't sure what to pick for a green tea as it isn't "too green" - meaning it doesn't taste "grassy" or "vegetal" as is often expected from green teas. In your first sip, you will notice the cherry flavors start to peek through. As you sit with these and move to swallow, the very subtle floral and rosy notes will make their appearance as you breathe in. We find that customers who were initially steadfast in telling us that they were not partial to the green teas, quickly change their mindset when we offer them a sip of this decadence! Again, don't take it from just me! Let Aubrey tell you a bit more. 
As you now understand, we chose these two teas to include in our Holiday Favorites Collection for very good reason. This is a wonderful set to gift someone that you know already loves tea, as well as someone that may be looking to get into the tea game due to including both green and black tea! Perhaps, you are looking to spoil yourself a bit this holiday season? We highly recommend this collection for that as well! You can't go wrong! 
Going forward, be on the lookout, as I'll be detailing each of our
Holiday Collections
individually in the upcoming Thursday blog posts. I can't wait to let you guys know what we have in store! I hope you all have a wonderful weekend and get to enjoy this lovely fall weather! Happy sipping! - Kaytea :) 
P.S. Please consider ordering early this year for your holiday shopping as we are aware of the anticipated shipping delays! We want to work with you to avoid any late arrivals for gifts!