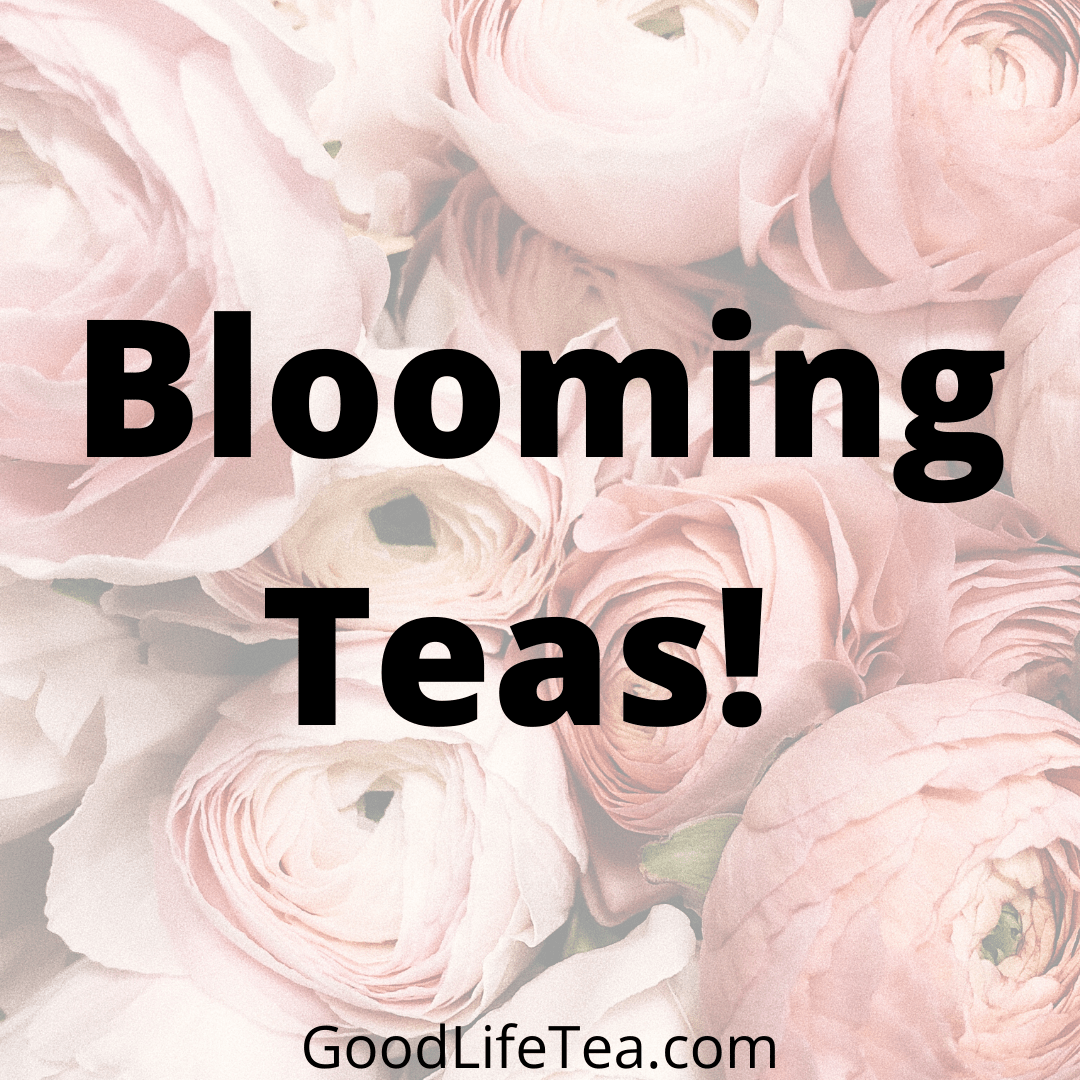 Happy Tuesday, tea friends! I believe I've told you before but Tuesday's are my favorite day of the week. I attribute that to getting to see some of my very favorite ladies each Tuesday morning for a meeting and to the fact that I love the book "Tuesday's with Morrie". Ever heard of it?
I don't know about you all, but lately, for some reason, I have just felt that I really have been coming into myself; physically, mentally, emotionally, habitually, etc. I just feel as though I really have gotten into a groove. I am in the "spring" season of my life. I was a caterpillar, and I'm becoming a butterfly. I am "blooming", if you will. 
And, to expand upon that, today I thought it only fitting to talk about our "blooming teas". We have three different varieties of blooming teas here at Good Life. Our Jasmine Spring Bloom is a green tea that is highlighted by the lovely floral notes of jasmine. Our Delirium is a lovely green tea to watch blossom in your glass or teapot. It also is known to help with circulation! Last, but certainly not least, our Three Flower Burst is another green tea, that, when blooming, reveals three types of flowers. 
Now that we have covered the different types of blooming teas that we have here, let's delve a little deeper into just how blooming teas came about. Blooming, or flowering, teas originated in the Yunnan province of China (yes, we do have a black tea called Yunnan Jig!). While there is controversy as to when these teas originated, there is evidence to support that emperors as far back as 960 enjoyed the visual pleasures of this tea. 
In order to make these teas, you must pick the tea leaves early in the morning while the dew is still present on them. These leaves are then encased in edible flowers such as chrysanthemum, lily, hibiscus, rose, jasmine, and marigold. These are further enclosed by other tea leaves. This bundle is then hand tied with threads and comes to look something like this! 
Blooming teas were created as an art form and continue to be such. Each one is hand tied by a tea artisan and is designed to be watched and appreciated! I personally love to give these as gifts! 
We also continually see these used at wedding or baby showers as a fun & delicious addition to the party! Imagine having all your guests drop their own personal bouquet into their glass! I know I would be impressed!
All of our blooming teas are very affordable so try one today and let us know what you think! I love nothing more than hearing all of your feedback! Keep me posted! 
Devo-tea-dly yours, 
Kaytea :)