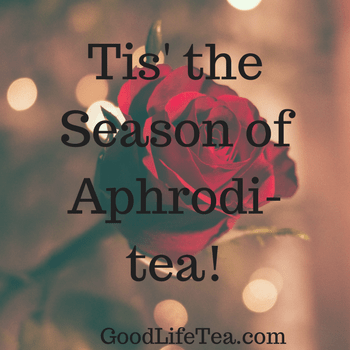 Hello beau-tea-ful hearts of Good Life Tea! With the month of February just beginning, I find it almost impossible to neglect the overwhelming feeling of love that I'm feeling around us! Love is truly in the air, my friends! And we at Good Life Tea are definitely feeling it!
            Although I do not have a
special someone in my life currently to celebrate with, I will tell you that I am realizing that I am surrounded by so many blessings and so much of this crazy, little thing called love. More importantly, I'm learning that the best, most genuine way to recognize, acknowledge, and celebrate these warm feelings is to share a cup of tea!
            Something I haven't truly touched upon in my previous blog posts has been how much I have fallen in love with working here at the tea shop and how much I appreciate everything that I am learning. Each day when I walk in I am greeted by the friendly smiles of Rob (the owner), Susan, or the lovely Laura. Rob continues to teach me more and more new skills while Susan teaches me all about the vast selection we have available. Laura continues to put smiles on my face and keep me laughing! Almost everyday Susan will brew me a cup of my favorite "Roasted Yerba Mate" while she enjoys her personal favorite "Autumn Sunset". I love the atmosphere in the teashop and how it so resonates with our mantra of "Relax. Refresh. Rejuvenate." I love the ability to experience new flavors each day. I love the ability to share my new love with all of you when you come in searching for what warms your cup. I am celebrating my Valentine's day this year with a valentine known as "Good Life Tea" and I wouldn't change a thing!
For those of you, that have a more traditional, and human, Valentine though, no worries, we've got you covered! As we all know, Valentine's day is traditionally accompanied by fancy cuisine, flowers, and undoubtedly… chocolate. Here, we have so many options to itch that scratch for the sweets. For you fellow chocoholics, when I have that craving I always turn to our Belgian Chocolate rooibos tea. This delightful tea features a full body that combines the rich and unique flavors categorical of a rooibos, with the decadent, melty flavors of chocolate. I love to indulge in a cup after a nice dinner and can imagine how romantic it would be to sip along side a significant other fireside.
            For those of you just starting something new with a special someone or thinking of sending a Valentine to a crush I highly recommend our Chocolate Mint tea. What's even more wonderful is this comes in both a rooibos and a black tea. The Chocolate Mint flavor reminds me so much of the Girl Scout cookie "Thin Mints". Girl Scout cookies remind me of being younger and of a more innocent time. I remember sharing these cookies with a boy I had a crush on in grade school and I think sharing a cup of Chocolate Mint tea with a crush would be very reminiscent of this.
            In contrast to a new connection, if this Valentine's day you are celebrating a length of time together I would suggest our lovely black tea, "Florence". Florence features beautiful notes of chocolate and hazelnut that remind me of the perfect kiss goodnight. Just as Chocolate Mint is reminiscent of a simpler time, I think that Florence is the perfect tea to sip with someone special to you, and reminisce about all the wonderful times you have had together.
            While all of these teas seem to offer their own special qualities for this holiday, what's even more of a bonus, as I always say, is they are zero calories! And even more so, no added sugars! You get to enjoy your sweets with your sweetie guilt free! Love it!           
As such a sap for all things lovey, I know I will be enjoying this month and everything that comes with it! For those of you with someone special in your lives already, I hope you have a wonderful Valentine's Day celebrating the beautiful gift of love. For those of you like me still looking for that special someone, I hope Cupid is kind to you and an arrow finds it's way toward your heart! For everyone, I hope your whole month of February is brewing with both love and tea! Happy sipping lovebirds! Stay warm! -- Kay-tea :) 
All the teas mentioned in this article are found below!