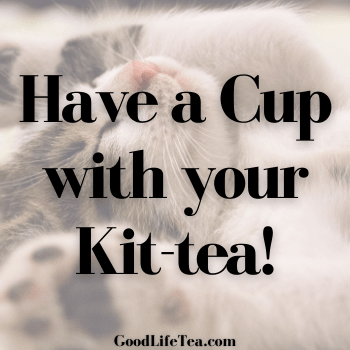 Good morning to our purr-fect tea friends! How are you all doing this morning as the week has begun? It's supposed to be a chilly week so stay bundled up and safe out there! On the other hand, if it's supposed to be so cold outside, why not curl up with a cup of tea, this blog post, and your cat?!
When I did a little research about cat lovers, I found that they often share quite a few traits with tea lovers. Those who favor the felines are often times more introverted, sensitive, and independent. I believe these traits to oftentimes align with those who love our tea as well. While this is certainly not a blanket statement, we do find that many of our customers do prefer some alone time, are more partial to the emotions, and, of course, are paving the way on their own! It's no surprise either that, many of our customers have cats! 
While, I personally would tell you I have an inclination for the canines, I will admit, curling up with a kitty and a cup of Good Life Tea sounds pretty darn good! I love the thought of caressing or cradling a kitten while simultaneously savoring some of our
Heaven Sent Chai
! I chose this beautiful tea as it is  a base black tea (our Ceylon tea), which is enhanced with 
cinnamon, cardamom, clove, ginger, and pepper! Don't worry, each time I mention our Heaven Sent Chai and its components, I too, have to take a pause at the pepper! It is a bit confusing to see but I promise you it works and is delicious! Being moderately caffeinated, I love this tea to drink around mid morning. It is a cure to the pre-lunch lull and will carry you through productively into the afternoon! 
Another sweet sentiment that I am swooning with right now proves the thought of sipping some of our
Bourbon St. Vanilla
rooibos tea with a tomcat on my armchair at the end of a long day. Bourbon Street, in New Orleans, is known for its lively, jazz filled atmosphere. Just as the jazz is smooth, ever present, and will soothe your ears there, the vanilla notes to this tea are velvety and will play to your palette and taste buds here. Rooibos teas, sourced from South Africa, are known for their caffeine free nature, as well as for their plethora of antioxidants. In a time of cold and increasing virus, we all need all the antioxidants we can get! Sip this tea alongside your jazzy cat and imagine yourself sashaying down Bourbon St. in New Orleans! 
Whether you are a cat lover, dog lover, animal lover, or none of the above, just know, we at Good Life Tea, are a YOU lover and we want to be enjoying our tea with you! Let us know if you decided to curl up with your kitty and which tea you choose to do so with! I'm sure it will be purr-fect! Stay safe, warm, and cozy! - Kaytea :) 
P.S. We have some awfully cute kitty tea ware as well! Make sure to check out the below products!
P.S.S. I know I include this each time now, but please don't forget, we are open on Sundays now from 11AM-4PM! Come see us and sip with us!