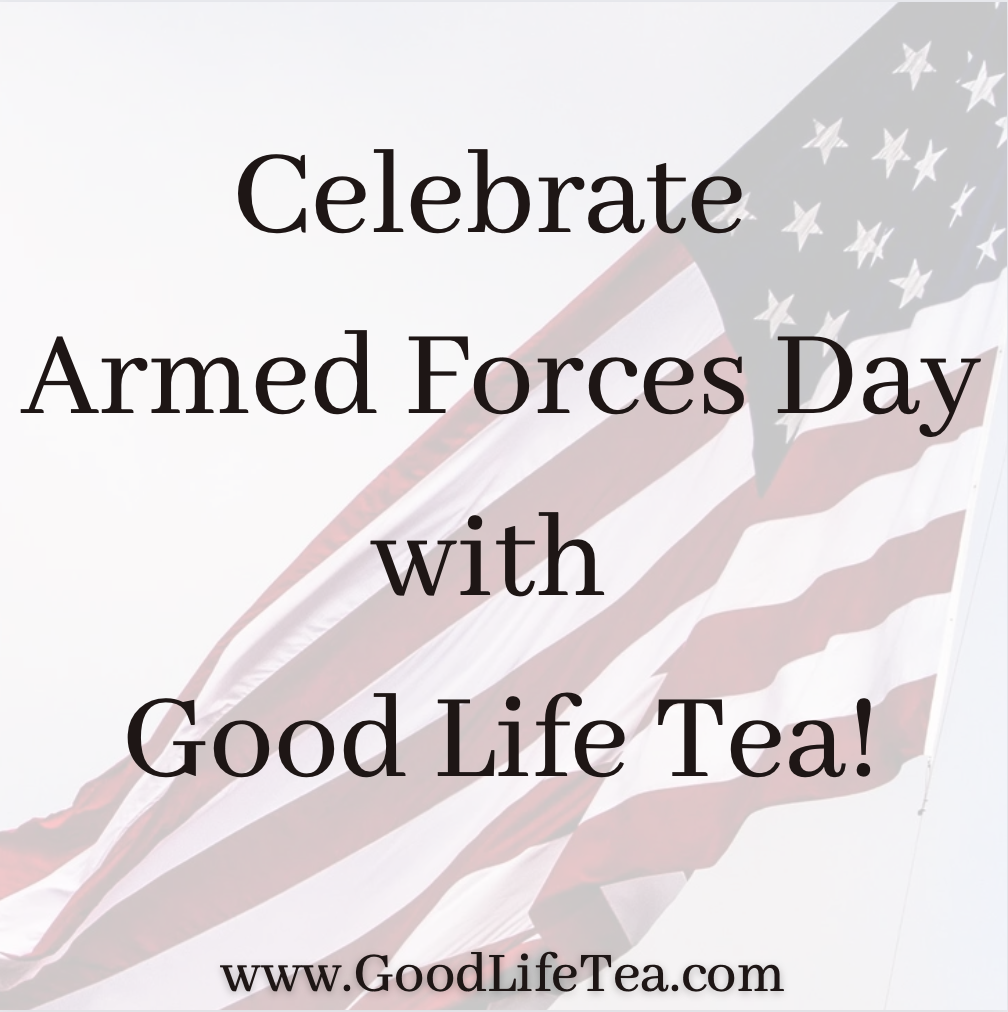 Good morning, tea sippers! Today I come to you to remind you of a very important upcoming day in the United States. This upcoming Saturday, May 22nd, is National Armed Forces Day. It is a day in which we honor and celebrate those who have chosen to dedicate their lives to the protection of us, our loved ones, and our homeland. We are incredibly blessed to be guarded and defended by our five branches of the Armed Forces. These branches include the Army, the Navy, the Air Force, the Marines, and the Coast Guard. In this blog post, I'll detail a bit of history on this day and then go on to suggest one of our lovely teas for each of these branches! Check out more below! 
Armed Forces Day was established in 1949 by President Harry S. Truman. It was created as a day to celebrate all branches of our military and promote reverence of them. It is celebrated each year on the third Saturday of May and often includes displays such as 
air shows, parades, ceremonies, speeches, open days, educational exhibits for children, and 'Support the Troops' motorbike rallies. At Good Life Tea we will be toasting and saluting all those who have served or are currently serving. We can not convey how much we appreciate what you are doing for our country and truly feel humbled by your sacrifices. 
Now, I will detail a tea that we recommend for each branch of the armed forces. Consider sipping on one of these as a way to honor someone in your life who has served!
1. The Army
When you think of the Army, what color immediately comes to mind? For most, of course, this is green. Because of this, we thought it fitting to recommend a green tea for those celebrating in honor of those in the Army today. One of our most popular green teas, that is also perfect for the upcoming summer, proves our Citron Green. Citron Green is a base Sencha style green tea that is highlighted with citrus flavors of clean, and sweet lemon. It is delightfully light and refreshing. We continually hear how perfect and thirst quenching this tea is over ice in the summer, as well! If you are saluting an army reserve, active, or veteran today, consider doing so with a cup of Citron Green!
2. The Navy
Similarly to our choice for a tea for the Army, with the Navy we chose to go with a tea that pays homage to the associated color. To honor those serving in this maritime branch of the armed forces, perhaps you may think of brewing a cup of our Blue Eyes. Voted "Best Tea for 20-somethings", this beautiful fruit tea is made up of dried apple pieces, hibiscus flowers, cornflower petals, rosehip pieces, sweet orange peel, and natural caramel flavors. It is compelling and enticing in its flavor profile in that the fruity notes are tamed and complemented by the caramel sweet tones. Should you know someone who has served within the Navy, you may want to recognize their commitment and duty with a cup of our Blue Eyes! (Hint, hint... This is another one that we highly recommend over ice!)
3. The Air Force
Those serving in the Air Force surely have spent their fair share of time in the skies. Something else that is often associated with the sky proves the heavens. Similarly, those who have chosen to dedicate their lives to protecting us in the skies are undoubtedly, "heaven sent". Because of this reasoning, to honor those in the Air Force, we have chosen our Heaven Sent Chai tea. This is our most popular of our chai blends and once you have tasted its complex flavor profile, you will have no question as to why. Its ingredients include clove, cinnamon, ginger, and black pepper, all atop the cardamom infused black tea leaves. It puts a twist on the traditional chai tea and becomes an instant favorite to all those who try it! Acknowledge someone you know in the Air Force with a cup of our Heaven Sent Chai!
4. The Marines
Another maritime branch of our armed forces, not to be forgotten of course, proves the Marines. The marines are their own sector of the Navy that are responsible for serving on U.S. Navy ships, protecting naval bases, guarding U.S. embassies, and providing an ever-ready quick strike force to protect U.S. interests anywhere in the world. Due to their extensive versatility, we chose to represent them with one of our most versatile teas, our Ceylon black tea. This very clean and basic black tea is the tea upon which many of our flavored black teas are built upon. It can be enjoyed simply by itself as a pure, classic cup of black tea. Some like to add a bit of lemon or sugar to it. Others even go so far as to add their own fruits or herbs to it. While it is delightful and delectable hot, it is also refreshing and revitalizing cold as well. We can't say enough about the adaptability of this tea and highly recommend it as a representation of the utility of our Marines. Make yourself a cup of our Ceylon black today today in honor of a Marine! 
5. The Coast Guard
Last, but most certainly not least, Armed Forces Day honors those of the Coast Guard. These incredible humans take to the waters and protect us from all sides here. They are responsible for maritime law enforcement, security operations, response, and prevention, marine transportation system management, and defense operations. Sheesh, they have a lot on their plate! Because of their ties to the "sea" and, furthermore, because we think that they may need a little time for relaxation, we saw no tea more fitting for them than our C of Tranquility. This herbal tea has been designed to invoke feelings of calmness and relaxation. It encompasses chamomile, rosehips, hibiscus, and blueberry. All of these ingredients combine to help sippers to take a load off and to really ease into (or out of, if you sip it in the evening) each day. Take to the sea to honor a Coast Guard near you by sipping on our C of Tranquility! 
We want to extend our greatest gratitude to all those who have chosen to serve in our Armed Forces. We cannot adequately put into words how thankful we are for your sacrifices for us each and every day. Everyone here at Good Life Tea commends you and thanks you. We hope that you all get a chance to do some of your own celebrations today and to thank a member of this incredible community. Happy Armed Forces Day 2022, friends! Happy sipping and saluting! - Kaytea :) 
P.S. If you haven't tried our most popular tea,
Hot Cinnamon Spice
, iced yet, here is your hint to do so! You won't regret it!