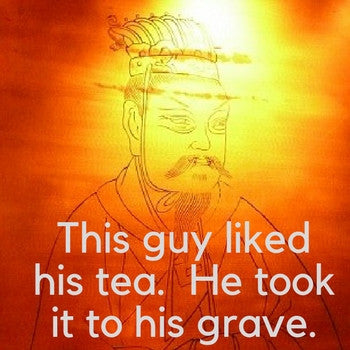 A recent excavation in China of Emperor Jin revealed that he was buried with a large stash of tea.

Below left is a picture of the tea that was excavated. On the right is LongJing also known as Dragon Well Green Tea.  There is a huge similarity in teas.  LongJing tea is also happens to be the preferred tea of the current ruling elite in China.  Maybe some things never change.
Apparently tea was enjoyed much earlier than was thought previously.  
This discovery also confirmed that tea was an important drink - so important that Chinese emperor's stocked up for the after life.
Our advice to you.  Stock up on tea and enjoy it here and now. If you want to take some with you for you after life, we don't have a problem with that.  Just don't call us Good After Life Tea. LOL
Here is the summary from the UK Daily Mail. Its quite fascinating.
That's been brewing for a long time! 2,150-year-old tea leaves found among treasures buried with a Chinese emperor provide the earliest evidence of Silk Road trade route
Archaeologists discovered a huge stash of tea Emperor Jing of Han's tomb
The stash of fine tea tips was spread 42 feet wide and eight inches thick 
It suggests tea was being grown at the time to satisfy the emperor's desire 
Researchers also found tea in a tomb in Tibet and suggest it was traded
Read more: http://dailym.ai/1OGM0Ca