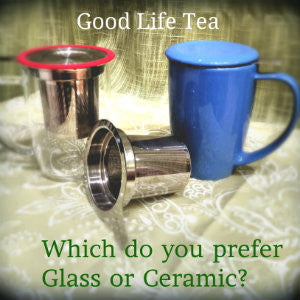 Both Make A Perfect Cup of Loose Tea
In our busy lives, catching a few moments to relax is a rare and cherished thing. More people are turning to tea when they need to refresh.
Making the perfect tea is easy
At Good Life Tea, we have two teacup systems that will never fail you. Both are easy to use and tailored to your personal tea time. Each include a deep tea mug, a generous infuser basket and lid.  While the three components may seem simple, but the genius of this system is that they were designed to work in tandem. 
Common Features of both mugs
Put the infuser basket into the cup. Note that the basket fully covers the cup to keep stray tea from falling into your cup. Add a heaping teaspoon of tea into the infuser.  Note the small holes to let the water circulate. Add hot water over the leaves to fill the cups 2/3 full. Cover with lid. Move from kitchen to your favorite comfy chair. Note that the lid is keeping the tea inside your cup while keeping it hot. 
Set the lidded tea cup down and let steep.  Remove lid and flip over.  Note that the lid has a slight raised edge. Lift the infuser up and let it drain. You can see that the resulting tea is clear because the tiny holes keep even the tiniest of tea particles in.  Set the infuser on the lid which now doubles as a coaster. Watch the coaster trap the tea and keep the table free of tea.  Now enjoy that cup in your comfy spot and take a moment to rejuvenate your mind and body.
| | |
| --- | --- |
| Click here for the Pyrex Glass Cup |  Click here for the Ceramic Cup |
The differences between the tea cup systems
With a quick glance, you can easily tell that one is ceramic and the other glass. While this is obvious, there are a few not so obvious differences. 

The glass is pyrex which makes the cup very light weight compared to the ceramic cup.

The ceramic cup, due to its thicker wall will retain heat longer than the glass cup.

With the glass cup, you can watch your tea steep.  A visual cue helps monitor the tea steeping.

The ceramic cup is more forgiving material and less likely to break.

The glass cup lets you show the world what you're drinking. (It sure attracts attention at the office.)
And the winner is
You. By choosing and using either one of these, you will give yourself the much needed tea break. This time off will improve your mental and physical health. A moment of relaxation will refresh and rejuvenate you.
Why don't you start a new good habit?  We have everything you need.  
| | |
| --- | --- |
| Click here for the Pyrex Glass Cup |  Click here for the Ceramic Cup |
Watch the video to see how easy it is use this tea mug and infuser.