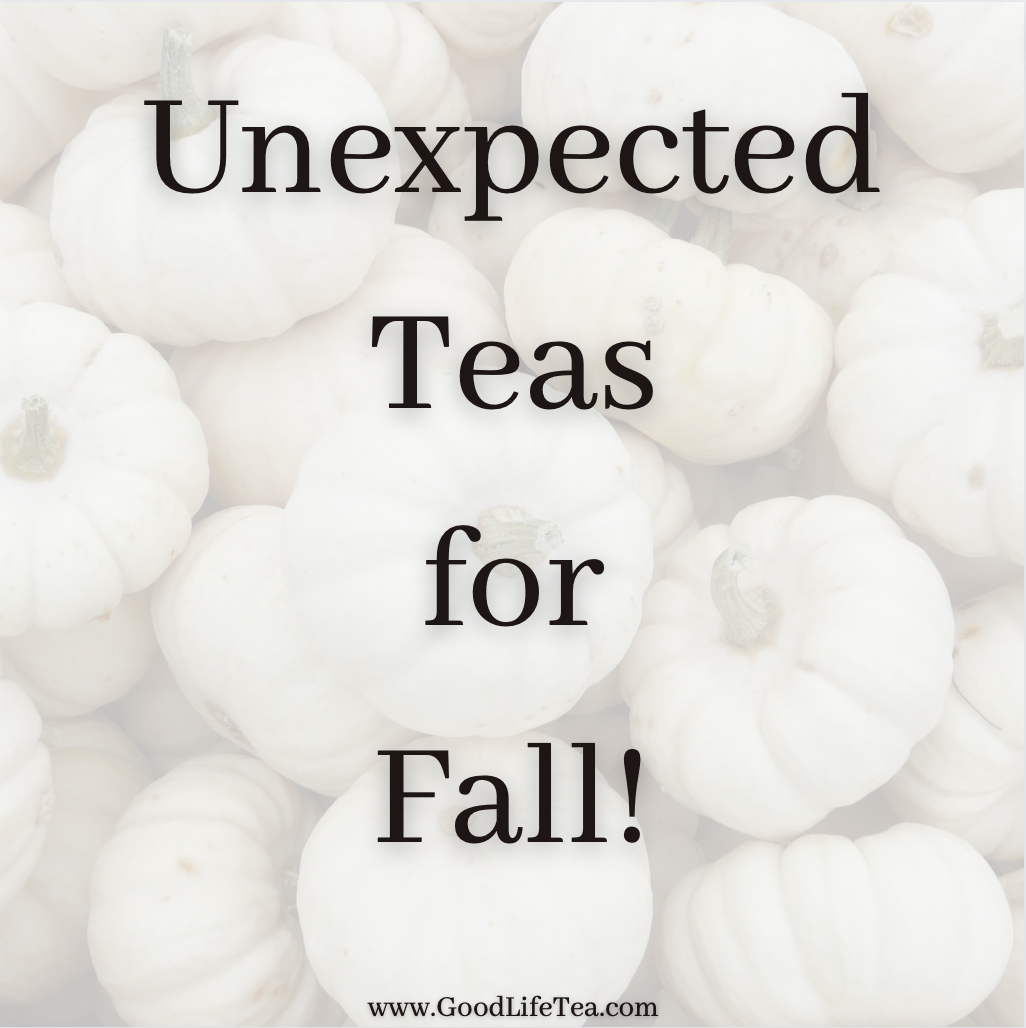 Good morning, friends! I hope that you all are having a wonderfully productive week and have been able to embrace the cooler temperatures, sweater weather, and onset of true autumn. Because of these cooler temperatures, a change that we have been seeing really start to occur, as it does every year around this time, is the switch from sipping your teas iced, to sipping them hot! Here is a good place to mention that all of our teas can be brewed either iced or hot, and while you may be thinking that you love one of our teas over ice, it could surprise you and be just as delicious hot. In this post, I'll be detailing a few of our teas that we find to be unexpected fall favorites. Check them out below!
Let's start with one of our often overlooked
flavored black teas
- our
Black Currant
. For those unfamiliar, black currants are berries with a tart taste, similar to that of a blackberry or a cherry. This flavor is represented in our
Black Currant
tea and is perfect for the transition from summer to fall. As autumn makes its appearance, you may find yourself starting to feel somber over the season of berry picking and fresh berries being slightly behind us. This tea, brings these flavors right back to the present, and drinking this tea hot keeps you toasty with the toppling temperatures. For more information on our
Black Currant
, check out this video! 
Next up, I'd like to talk about one of our teas that is often first thought of to be sipped over ice - our
Canandaigua Chill
tisane tea! Many of our tisane teas, we find, are thought of initially as iced teas. As mentioned, all of our teas can be enjoyed either iced or hot, and while this one may be first considered for iced tea, I find it to be absolutely delectable hot. Our
Canandaigua Chill
tisane tea is made up of a
pple pieces, hibiscus petals, rosehips, cinnamon, elderberry, clove, cranberry, and natural flavors. While you may be seeing people on your Instagram feed out in the apple orchards, picking the apples for themselves, and getting chilly, you can take comfort in knowing that you are brewing yourself a hot cup of these flavors right in your own kitchen! The flavors of apple and cinnamon blend beautifully into a full fall flavor profile. This is a tea that I always find myself gravitating toward this time of year, and I know you will too! 
One more tea that is sometimes forgotten for fall proves our
Chocolate Truffle
oolong tea. Our
Chocolate Truffle
, for some reason, seems to shine more in the winter months, but I think it is a perfect transitional tea for the summer to fall! This tea is the one tea in our entire store with sugar in it as it has actual bits of both white and regular chocolate in it! These tiny bits melt as your tea steeps in the hot water and make for an incredible chocolatey swirl for sipping. Built upon the oolong tea base, you will find r
ooibos,
 a
pple (fall flavor!), cacao beans, cacao powder, natural chocolate and vanilla flavors, and both chocolate and white chocolate bits, as mentioned. All together, this tea is decadent. It is a chocoholics dream beverage and as a bonus, less calories! P.S. I have also heard this tea to be a crowd pleaser for adults at Halloween parties as it is a unique beverage that incorporates candy, but in a more mature manner!
Do you have a specific tea that speaks to you as an autumn one that you would like to share with the class? If so, leave a comment! We would love to hear it, especially if it is unexpected! Please feel free to add any recipes or mixes you may have, as well! I hope you all are enjoying the change of leaves, have gotten your sweaters down from the attic, and are staying warm! Happy sipping! - Kaytea :)
P.S. Get geared up some spooky tea recipes coming your way for upcoming Halloween parties! 👻🎃