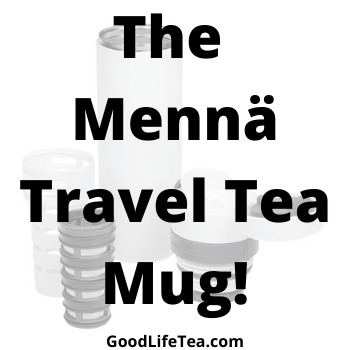 Good morning, Good Life Tea-ers! We are hoping you that you all had a wonderful weekend, were able to get out and enjoy some of the sunshine we were lucky enough to receive, and are ready to crush anything that this week may throw your way! 
We have some exciting news for you this morning, as well. We have a brand new, innovative, and exciting product to introduce! We are proud to bring to you all, the new
Mennä Travel Tea Mug
. 
This great new addition to our tea ware collection is the easiest, most efficient way to take any of our premium loose leaf teas with you on the go. It allows you to easily make tea, both hot and cold, and take it with you anywhere. Whether you are going to the grocery store, to the gym for a yoga class, just to pick up the kids from soccer practice, or anywhere in between, this portable tea infuser is the easiest way to take your tea with you. Your tea is ready in just three easy steps which we will cover below. And, "What's the best feature about this travel tea mug?", you ask. That's easy. There is a built in feature that keeps you from over steeping your tea!
You better believe we're serious! To make your perfect cup of tea to go, all you have to do is follow these three easy steps. 
1. Fill the infuser basket with your favorite premium loose leaf tea. Fill your travel mug with water (hot or cold both work) and attach the top.
2. After the appropriate steeping time (don't worry, we list this time on each of our teas), twist the gray ring on your travel mug to commence the steeping of your tea. 
3. Enjoy your perfectly brewed cup of tea on the go! 
We love this travel tea infuser as it allows you to take your tea with you immediately and control the steeping on the go as well. We also love even more so that it is dishwasher safe! You can clean your travel mug each night by separating the pieces and throwing them in your dishwasher so that they are ready to go, first thing each morning. There are so many perks to this new product that it is hard to embody in just one blog! Check out the video below for a full tutorial on the use of our new
Mennä Travel Tea Mug
, then snag one for yourself here! Let us know what you think and where you are taking your tea these days. We can't wait to hear how much you love this new addition to our tea ware collection! Enjoy the sunshine and some tea on the go! - Kaytea :)