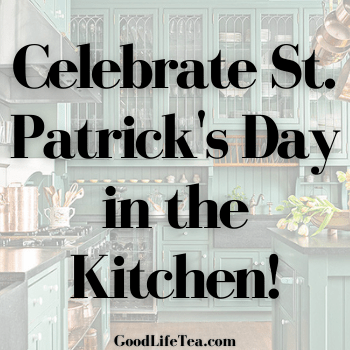 Good morning, sweet friends! We at Good Life Tea hope that you are having a wonderful week, and are getting prepared for the fast approaching St. Patrick's Day! As March is traditionally filled with all things Irish, lucky, and, of course, green, we didn't want to be left out! Today, in the spirit of things, we are going to talk about how to make all of your favorite cooking goodies green (yes, actually green in color!) using our teas! How fun and festive is this? Do you have children that are elated by celebration and would just love to eat a green lava cake? We've got you! Are you trying to impress your special someone with a festive dinner that not only tastes great, but is also green? We've got you! Do you just feel like making something special for yourself to celebrate St. Patrick's Day? Guess what, we've got you!  
Are you guys familiar with
Matcha
tea? If you are a veteran Good Life Tea sipper, you are probably acquainted with it, but let's delve a little deeper for the newbies!
Matcha
is comprised of green tea leaves that are ground down into a powder form for you to drink. This allows you to get all of the caffeine from the tea leaves, ten times the antioxidant levels, as well as proven fat burning benefits! When making tea with
matcha
you do not remove the powder to drink it, as you would will whole tea leaves. You simply mix our
matcha
powder into whichever liquid is your preference. Think of how you make SwissMiss Hot Chocolate or Ovaltine powder.
Matcha
has the flavors that you would expect, as it is green tea. You will notice subtle vegetal tones along with nuttiness, sweet notes, and a distinct what people call "
matcha
taste". It is a pleasant, almost delicate bitter taste that is, by no means, astringent and you will grow to love! What's even more fun about this tea is that you can use it for the same health benefits discussed above in your cooking! You can add a teaspoon to your oatmeal, or noodles. You can sprinkle it on your popcorn. You can use it in your baked goods. Furthermore, and for the purpose of St. Patrick's Day, using
matcha
in your cooking will add a festive green color!    
If you are looking to make a fun baked good for your little ones to celebrate this Irish holiday, why not try these
molten lava cakes
that use
matcha
and white chocolate?! As a child, my brother was most likely Domino's best customer when they featured lava cakes on their dessert menu, and ever since then, I have been fascinated by them. Combining the goodness of a brownie with the surprise of a creamy, fudge slide inside? Sign me up. These lava cakes are absolutely delicious and such a fun way to celebrate St. Paddy's Day! 
If this intimidates you, or just seems to be a bit of a stretch, then perhaps these
matcha green tea sugar cookies
are more your speed (don't worry, this is more tailored to my skill level in the kitchen, as well). These cookies are the perfect post-dinner pick me up with just the right level of sweet. They are incredibly easy to make and only take about a total of 30 minutes all together! I think I'll make these again for my neighbors to leave a little luck charm on their front porch for St. Patrick's Day! 
I apologize that I tend to put dessert before dinner but that's the natural trend for me. My sweet tooth always gets the best of me! If you are perchance making a special dinner for your special someone this St. Patrick's Day, our
matcha
tea can be of service to you here as well. With the still chilly weather we have been experiencing, how about preparing a romantic dinner of this
matcha and mushroom soup
? Not only is it impressive, delicious, and festive, but it is also easy to make! Even Food Network gives it the "easy" difficulty level rating! This soup is creamy but doesn't lose the flavor of earthy
matcha
, which is balanced with the savory flavors of chicken stock and thyme. I recommend adding a bit of garlic and onion! You will not be disappointed! Let's not forget that mushrooms are a known aphrodisiac as well! Valentine's Day wasn't as long ago as it seems! ;)
We all know that St. Patrick's Day is quite the day for those partial to the party. Do you have plans, perhaps, to enjoy a cocktail or two with friends? No shame in that! But you may not be feeling the best afterwards. This next recipe I have found using our
matcha
is for a
detox salad
to help you purge those toxins in the days following St. Patrick's Day. This salad includes health foods such as quinoa, avocado, ginger, a multitude of vegetables, and spices, and of course, our
matcha
. This will help keep you awake, alert, and pump you with antioxidants getting you back to tip top shape in no time!
The last recipe I will mention for cooking with
matcha
is one that can be saved for oneself or shared with friends! As March Madness starts to become underway and as mentioned, St. Patrick's Day is right around the corner, why not whip up some of this
Matcha Power Hummus
to bring to your next sports viewing occasion? It is green for the holiday and, also, absolutely delicious! The spinach and
matcha
provide a refreshing taste while the surprising, cinnamon, hooks your palette in, making it almost impossible not to double dip! You will, no doubt, be asked numerous times for this recipe! Send your dippers our way for more
matcha
! 
If you are one of our returning sip savants and you have experience cooking with
matcha
, what have you made? Do you have any favorite recipes that you regularly return to? Send them our way so that we can update this post to reflect it! All of these recipes use our
matcha
and are great to celebrate St. Patrick's Day and the days that follow! Make one today and invite the luck o' the Irish into your home! Let us know how you fare in the kitchen! Stay warm and eat green, literally! - Kaytea :) 
P.S. If you are intimidated by matcha or have already found that it just doesn't suit your fancy, don't worry. You can still celebrate that holiday with any one of our
green teas
!