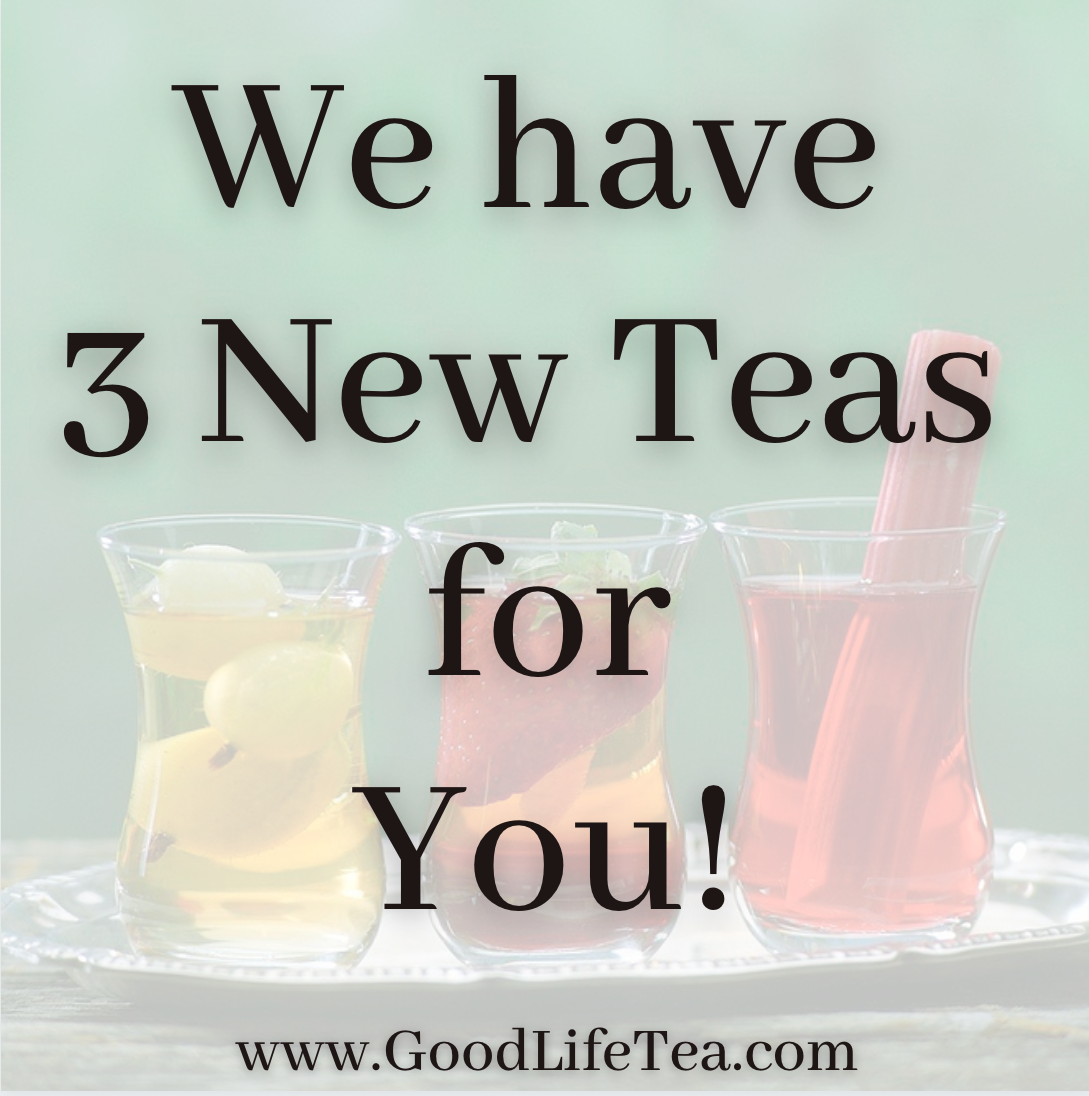 Good morning, tea lovers! I have some exciting news to share with you this morning! Because we just felt like we haven't had enough going on and changing lately (I'm totally kidding! It's been crazy here!), we thought it would be the perfect time to expand our tea collection! We decided to add 3 new teas and we had such fun deciding which ones would be the winners! In this blog post, I'll talk about how we decided upon these three teas and detail a little bit about each one. Check it out below!
In choosing to add some new teas to our collection of over 120 teas, we wanted to make sure we only added the best and that the teas that we chose were applicable to those who liked different types of teas (tisanes, green teas, herbal teas, etc). To make sure that what we decided upon was applicable to different tastes and preferences Susan decided that we should have a "taste off". Prior to Geena leaving for Ithaca, we took two days to make and try a whole spectrum of different teas. These ranged from black teas to herbal teas to green teas and everything in between. We rated each tea, respectively, and took the top three contenders to bring to you all! Below, I'll let you know which three teas rose to the top and exactly why you should try each one today!
Boys and girls, this tea is a treat. This is a tisane tea that is composed of hibiscus, butterfly pea flower, apple pieces, rose hips, orange, papaya flavor, blueberries, strawberries, and natural blackberry flavors. It brews into an absolutely stunning purple color and when you sip on it you are taken aback by the depth of layers present. While you are initially greeted with fruity and tangy notes, they quickly develop on your taste buds to reflect more of the floral components. It is a decadent tea to drink hot, as we found, but we highly recommend it cold as well. What makes this tea even more appealing is its lack of caffeine content. This makes it well able to be enjoyed even into the evening hours. I have been enjoying it as a cool refresher after my evening walk lately and I urge you to give this a try! 
Next up, we have our Lychee Rose. This was a favorite of our girl, Geena. This, similar to our Kyoto Cherry Rose, is a beautiful spin on traditional green tea. On top of the bed of green tea, you will find apple pieces, rose petals, and flavors of lychee and rose. It is perfectly sweet and tart at the same time and in the flavor profile you will notice notes of almost grape and melon. It is a lovely summer tea due to its refreshing nature. If you, like me, were initially unsure of what a lychee actually is, it is a small tropical fruit native to China that you peel and eat. It is often referred to as the "alligator strawberry" for its color, size, and bumpy skin. Some say it tastes like a cross between a strawberry and a watermelon, while others taste a blend of citrus and rose water or other floral note, owing to the fruit's sweet, strong aroma. As you can imagine, this pairs nicely with the already present rose petal component. I highly recommend trying this tea, again over ice, and in the shade on a hot summer afternoon. 
Last, but certainly not least, we bring to you our last addition to the Good Life Tea family of teas, our Joyful Release. Joyful Release is herbal tea that combines apple pieces, orange, ginger, cinnamon, turmeric, rose hips, black peppercorn, mango pieces, natural orange flavor, marigold flowers, and natural mango flavor. Can you say "wow"? This tea has a wide range of flavors to take in but they all somehow come together and align in a beautiful combination. In sipping this, you will first notice the spice of ginger, cinnamon, turmeric, and peppercorn that will almost instantly be neutralized into the sweet and fruity notes of apple and mango. Right at the end, just as you take in your breath to swallow you will be greeted and delighted by the floral from the marigold as well. This multileveled tea is undeniably decadent. It is a tea that received 5 stars from all three of us at the shop, which means you need to add it to your cart now! 
We hope that you try these new teas today and then don't hesitate to rate them on our website. Your feedback is so important to us and we take it into account each time we go to add new teas. Happy sipping, friends! We hope that you have the most wonderful remainder of your day! - Kaytea :)